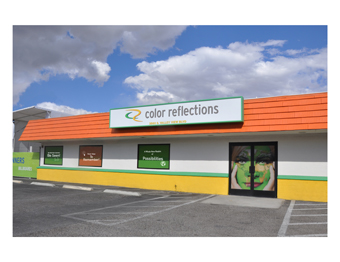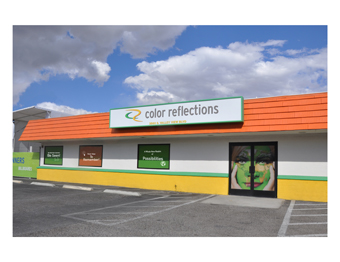 Joe Castellano, president of Color Reflections in Las Vegas, regards his company as an innovator that brings exceptional ideas and products to their customers. As a Las Vegas business, Color Reflections Las Vegas' most common customer request is, "It has to look great; I need it now; I need it big; and I don't want to spend a fortune."
Color Reflections refers to itself as a "visual communications service bureau." The original location was started up in the late '80s by Paul Magaziner in Houston, Texas, and when Castellano visited Las Vegas in 1995 for a tradeshow and saw all the lightboxes in the airport, he convinced the owner to open up a location in the area a few months later as primarily a complete digital photo lab.
As you'd expect from a company operating in Vegas, Color Reflections started mainly doing casino work (landing the MGM Grand as one of its first accounts). But over the years, Castellano noticed the increasing amount of tradeshows in the city. Because of servicing these two industries, the company now runs two shifts seven days a week out of its 25,000-square foot facility. (Note: They're now up to forty-nine employees and holding.) "And there's not an image that we create that doesn't first go through our digital department," says Castellano.
The company was looking for the ability to print critical applications such as large format digital Fabric Banners. "We knew we needed a super-wide format printer that could deliver extremely high quality at production speeds," said Castellano, who also points out that the company's goal was to increase its fabric revenues in 2012, and its investments needed to make significant contributions towards that goal.
Because they do so much tradeshow and gaming work, fabric was just a natural fit for Color Reflections. "Fabric has been the fastest growing part of these markets over the last two to three years," says Castellano. "A lot of the tradeshow companies have pre-fabricated booths that they use as rentals. And putting fabric in these displays' Tungsten grooves enables you to have a really nice, classy look with fabric, and our customers are really making the fabric 'pop' even further by either back-lighting or front-lighting it."
To stay ahead of the quality and technology curve (and especially for the creation of exceptional fabric banners), Castellano recognized that he needed to update their production platform to meet its business goals and customers' needs.
Color Reflections Las Vegas chose to invest in an EFI™ VUTEk® TX3250r. "We first purchased the EFI VUTEk QS3200, then we upgraded to the EFI VUTEk GS3200," explained Castellano. "Since we were already familiar with the reliability, quality and ease of use of VUTEk products, we decided to purchase the EFI VUTEk TX3250r for our fabric work."
The EFI VUTEk TX3250r is a 3.2-meter wide dye-sublimation fabric printer that combines industrial productivity, high quality output and application versatility to meet the growing demand and requirements of the soft signage market.
The dye-sublimation technology of the VUTEk TX3250r sublimates, or dyes, the fabric directly so the textile retains the drape and soft-hand as customers prefer. It produces brighter colors than other textile printing methods and is completely odorless.
Color Reflections Las Vegas prides itself on staying current with the latest cutting-edge technology, enabling the firm to produce the highest quality large format and photographic printing. Now with their recent purchase of the EFI VUTEk TX3250r, Color Reflections is able to produce durable output with rich colors and dense blacks. "Investing in the EFI VUTEk TX3250r allowed us to extend our material offerings to our clients," he says. "Recently we had a request for 60 120-by-120-inch backlit fabric banners delivered within two days. The job was completed early and the customer was very happy with the quality and delivery."
When Castellano upgraded his dye-sub printer to the TX, he thought ahead by estimating a certain amount of time needed for the printing and a certain amount of time needed for the finishing. "The finishing side of the project always takes a little bit longer since it's at the end of the process," he says. "So on this project, our production manager brought in a couple of extra seamstresses to do the finishing. However since the printer was able to output at a speed of almost 900 square feet per hour and we had nothing to reprint, the print time actually turned out to the 25 percent less than what we'd anticipated. That extra time—and extra help—for finishing enabled us to get this project done under time actually."
Another big use for fabrics is with wall coverings. Although Color Reflections is still a bit new to this side of the industry, Castellano has noticed that they're really popular with hair salons who need to decorate the partitions separating one chair from another. "We're slowly working into doing museum work here," he says, "and some of our architect clients are now interested in decorating lobbies and hallways with fabrics instead of wallpaper."
Castellano views his company's relationships with clients as priceless. "When we added the capability to produce dazzling fabric displays, high-density backlit displays, and large wall coverings quickly, with the quality they demand, it added an additional value to our services," he explained.