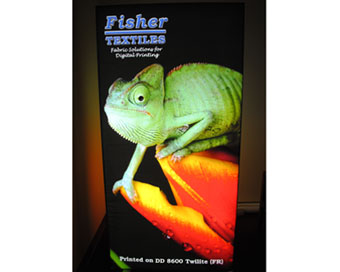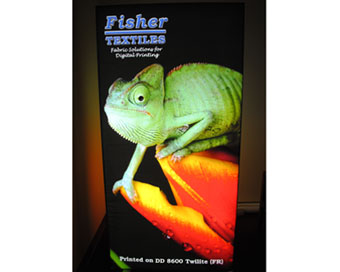 Fisher Textiles is pleased to introduce DD 8600 Twilite (FR) and DD 7849 EZ Stretch to its line of fabrics for Direct Disperse printing.
This fabric line is compatible with d-Gen Teleios, Dupont™ Artistri™, Durst Rhotex 320, Jeti 3324 AquaJet, Mimaki JV5-320DS, Mimaki DS-1600, Mimaki DS-1800, Mutoh Viper TX, Roland HeatWave, and Roland Hi-Fi Express printers.
DD 8600 Twilite (FR) (pictured) is Fisher's newest backlit fabric that works well in grooved box lit applications by presenting excellent color volume and resolution. It is 7.8 oz./yd2, 119 inches wide, flame retardant, and passes the NFPA 701 test.
DD 7849 EZ Stretch is an 8.2 oz. knit that is 100 percent polyester and totally wrinkle free. It does not contain spandex, so it is easier to match the whiteness of the company's other popular knit styles. The fabric is 120 inches wide and has stretch in both directions, with slightly less stretch in the length to allow more ease in tension control and print registration. It gives a decent amount of opacity and great definition on all colors. Applications include geometric displays, photographic back drops, and tradeshow exhibits.
Free sample rolls of both materials are available for testing.
For more information, call 800/554-8886 or visit www.fishertextiles.com.