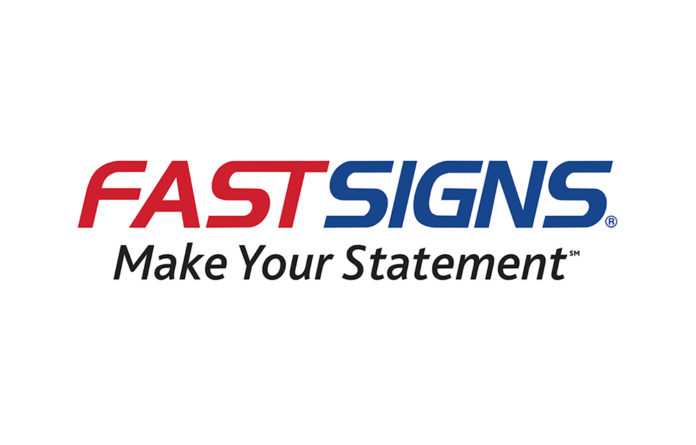 FASTSIGNS International, Inc., franchisor of FASTSIGNS®, the leading sign, graphics and visual communications franchise, was recently named number one in the Business Services sector on Franchise Business Review's list of the Top Franchises for 2023.
This is the eighteenth annual ranking of the 200 best franchise opportunities as rated by franchise business owners. FASTSIGNS was also identified by Franchise Business Review as being one of only 100 franchises to qualify as a 2022 Recession-Proof Franchise.
"Being named one of Franchise Business Review's top 200 franchises and the number one in our category is an immense honor and a testament to the strength of our brand," said Mark Jameson, chief development officer at Propelled Brands. "This achievement was made possible through the efforts of our franchisees to further establish FASTSIGNS as the go-to resource for visual communications in their communities.
"This year, we look forward to continuing to deliver quality services to our customers and attracting the best franchise candidates by offering a range of options, from owning a franchise to adapting an existing sign business through a conversion or co-branding with a complementary business."
Franchise Business Review, a market research firm that performs independent surveys of franchisee satisfaction and employee engagement, provides the only rankings and awards for franchise companies based solely on actual franchisee satisfaction and performance. Franchise Business Review publishes its rankings of the top 200 franchises in its annual Guide to Today's Top Franchises.
FASTSIGNS was among over 360 franchise brands, representing more than 38,000 franchise owners, that participated in Franchise Business Review's research. FASTSIGNS' franchisees were surveyed on thirty-three benchmark questions about their experience and satisfaction regarding critical areas of their franchise systems, including training & support, operations, franchisor/franchisee relations, and financial opportunity.
"When FASTSIGNS pursued us to convert our business, we decided to make the leap after seeing what we could do and what potential support there was for our business growth," said Karrie Brock, franchisee at FASTSIGNS of Toledo and FASTSIGNS of Maumee. "The network of other FASTSIGNS owners has been the biggest key to our success. Being a part of a larger network that can share ideas, help with solutions and even help produce or install anywhere in the world is priceless."
FASTSIGNS' survey data showed the following:
I enjoy being part of this organization: 4.4/5.0
I respect my Franchisor: 4.5/5.0
Senior Management promotes a clear vision for the company: 4.4/5.0
My Franchisor cares about my success: 4.4/5.0
Would you recommend this franchise to others? 4.5/5.0
"Franchisee satisfaction levels hit an all-time high last year despite the pandemic, and we are pleased to report that our 2023 research shows satisfaction has remained sky high—a sure indicator that franchisee satisfaction is a top priority for franchise companies—and that's good news for franchise owners and anyone thinking about investing in a franchise," said Michelle Rowan, president & COO of Franchise Business Review. "As an independent research firm, Franchise Business Review is committed to helping prospective franchisees get an objective view of the best franchise opportunities available based on actual feedback from the people who own them.
"This year, nearly 38,000 franchisees completed our survey, and from there, we identified the franchise brands with the highest levels of satisfaction and performance to educate potential buyers about which franchise to invest in."
Rowan concluded, "Each of the 200 Franchisee Satisfaction Award winners on this year's list achieved stellar ratings from their franchisees."
—Press Release