According to findings from the latest Small Business Trends report released by Guidant Financial, 32 percent of small business owners are women, a 13 percent increase from last year's 27 percent,
The report's findings are based on the annual Small Business Trends survey conducted by the Small Business Trends Alliance (SBTA), a group of companies dedicated to supporting small business with data insights. The SBTA teamed up to conduct a joint survey of over 2,400 current and aspiring small business owners across the nation.
"We've seen an annual increase in the number of women who own small businesses," said Guidant CEO David Nilssen. "This excellent growth shows how women are increasingly able to access funding and take control of their entrepreneurial journey."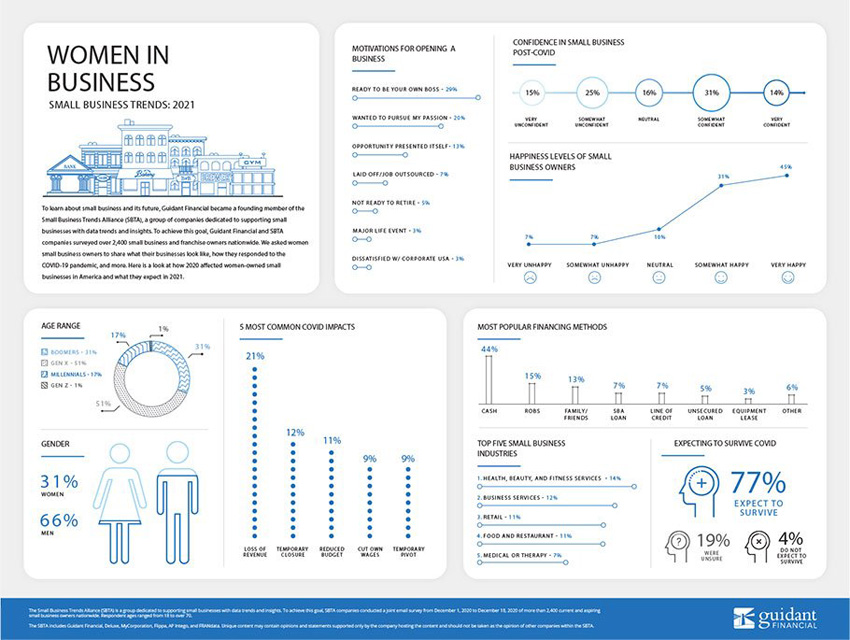 More Small Business Trends report findings:
Age Demographics
51% of women small business owners are Gen X
31% are Boomers
17% are Millennials
1% are Gen
Reasons for Women Starting Their Own Business
29% wanted to be their own boss
20% wanted to pursue their own passion
13% were dissatisfied with corporate America
Top 4 Industries for Woman-Owned Small Businesses
Healthy, Beauty, and Fitness
Food and Restaurant
Retail
Business Services
The Top 5 Non-COVID Challenges Faced by Women Small Business Owners
Marketing/Advertising
Lack of Capital/Cashflow
Recruiting/Retention of Employees
Managing/Providing Benefits
Administrative Work
Political Party Affiliation for Women Small Business Owners
36% said they didn't belong to or feel represented by any political party
33% Democrat
24% Republican
7% Libertarian, Green, or other
55% of female small business owners surveyed voted for Biden
27% voted for Trump
18% didn't vote or voted for another candidate
COVID-19 Reactions
44% of women small business owners feel somewhat or very confident about small business post-COVID
40% feel somewhat to very unconfident
16% are neutral
21% of women-owned small businesses lost revenue due to COVID-19
77% percent of respondents expect their small business to survive the pandemic
Methodology
The Small Business Trends Alliance, an organization comprised of Deluxe, Guidant Financial, MyCorporation, Flippa, FRANdata, and AP Intego, conducted a joint email survey from December 1, 2020 to December 18, 2020 of more than 2,400 current and aspiring small business owners nationwide.
About Guidant Financial
Guidant Financial helps business owners secure financing to start, buy, or grow a business. An industry leader in business and franchise financing, Guidant works with new and existing entrepreneurs to identify, evaluate, and deploy customized financing solutions. Their services include, but are not limited to, 401(k) business funding, SBA loans, unsecured credit, and portfolio loans. In total, Guidant has helped over 20,000 entrepreneurs in all 50 states to invest more than $4 billion in funds to start small businesses, resulting in more than 85,000 U.S. jobs created.
About the Small Business Trends Alliance (SBTA)
Founded in 2019, the Small Business Trends Alliance (SBTA) is a group dedicated to supporting small businesses with data trends and insights. These data-backed insights are intended to help small business owners confidently make key decisions, and to bring transparency to small business for prospective entrepreneurs to learn more about their options. The 2020 SBTA includes Guidant Financial, Deluxe, Flippa, MyCorporation, FRANdata, and AP Intego.
—Press Release