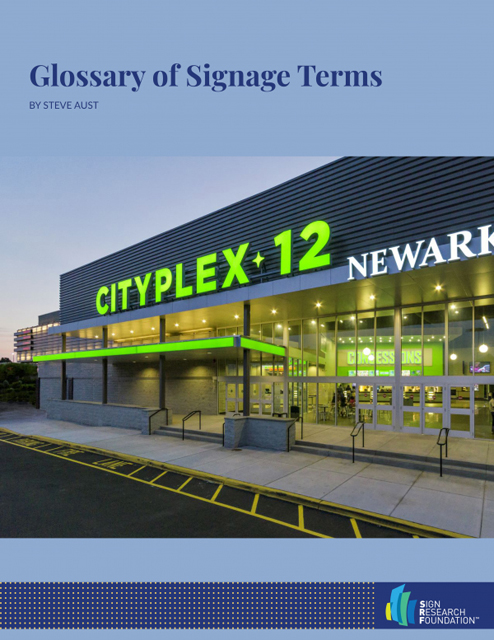 Whether dealing with local planners, your clients, or just talking to an industry colleague, it's helpful when we're all using the same language. That hasn't always been possible in our industry.
Now, thanks to the Sign Research Foundation—and its twenty-year commitment to finalizing this project—the Glossary of Signage Terms is available at the SRF website.
This all began in the early 2000s, when the Sign Research Foundation was developing a model sign code for cities to reference when developing their own. It quickly became apparent that there was no standard terminology for many types of signs or common materials and technologies used to fabricate signs.
The development of this glossary isn't just about making communication clearer or work easier. Instead, it was apparent that sign ordinances that use improperly defined terms are open to interpretation during regulations.
Sometimes good signs fail simply because what is meant is unclear. Some of this occurs because those who write the rules and regulations don't necessarily know our industry.
With the Glossary of Signage Terms from the Sign Research Foundation, however, there can be a more uniform understanding of what is meant by a building-mounted sign and how it differs from a building fascia. There is now an ability to distinguish between a projected sign and a projected-image sign.
Using this glossary can help communities develop reasonable sign codes, ensuring that they are clear and easy to follow. This not only benefits our industry, but also local officials who no longer have to guess if they understand what the code means when they are approving or denying a sign permit.
The uses of such a glossary extend well beyond the regulatory aspect, of course. Bob Chapa, CEO of Signarama Troy/Metro Detroit and Geisler Sign Company praised the glossary on LinkedIn, calling it "dynamic, engaging and COMPLETE."
I couldn't agree more. This 120+ page book is filled with clear and easy to understand terms, along with many helpful images. The Glossary of Signage Terms is just one of the important resources that the Sign Research Foundation has developed through the years.
A quick glance at the research section of the SRF website shows just how varied and important this information is:
Model sign codes help communities with a framework for developing their own codes.
Economic impact studies put a dollar value on how signs positively impact a business.
Wayfinding guides have been critical to communities as they finance and develop these systems.
And niche products like historic signs or retail wayfinding is invaluable those looking for this hard-to-find information.
ISA's advocacy team often turns to SRF's publications for help, so I can vouch for their value to our efforts in developing reasonable and beneficial sign regulations. This is yet another important SRF resource for our industry.
I hope you'll join me in supporting SRF, either with a tax-deductible gift or by purchasing a publication. In fact, get a few copies of the Glossary and share with your local officials. It never hurts to be speaking the same language.
—David Hickey
David Hickey is vice-president of Government Affairs at the International Sign Association.