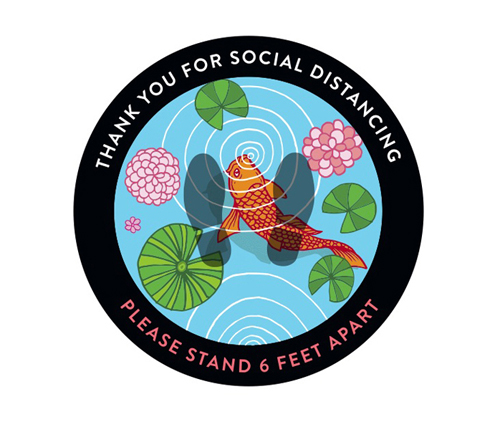 Indiewalls, founded in 2011, is a New York-based art marketplace and consultancy that curates, commissions, and sells artwork to the commercial industry—helping project teams discover, purchase, and commission artworks from independent artists. They've had the opportunity to develop, curate, and produce murals, sculptures, 2D works, custom installations, and more for some of the leading brands and properties in the world.
Like many companies, Indiewalls' business was drastically impacted by the economic shutdown this year. As a result, it launched Indiesigns, an initiative to employ independent artists who have suffered a loss of work as a result of COVID-19. These artists design pandemic-related wall, floor, and window signage with a positive and design-forward aesthetic aimed at helping businesses reopen safely without compromising on design.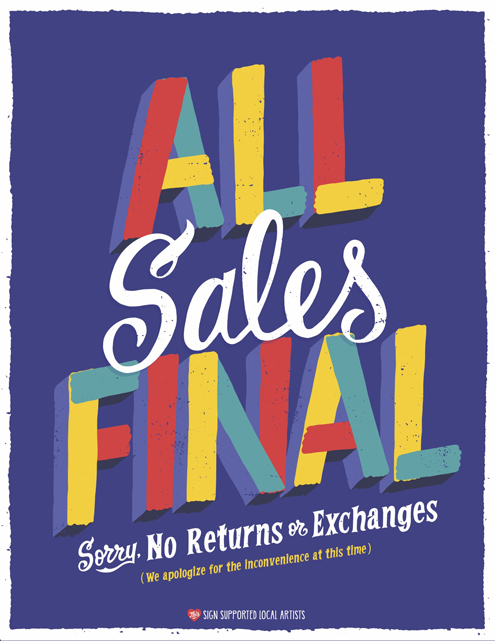 As social etiquette is evolving within the public sphere, these products help keep the public informed and safe through a variety of messaging on mask requirements, social distancing, occupancy limits, reminders for washing hands, limited supply announcements, and more. Signage can be fully customized to reflect specific corporate branding or aesthetics.
All of the signage adheres to CDC guidelines and is available in a variety of types: 1/4-inch SINTRA rigid signs, peel-and-stick signage, or indoor/outdoor floor graphics. Indiesigns recommends a combination of these sign types be used in retail environments.
"We absolutely recommend a combination. We've seen the adhesive floor decals be very popular, and the same adhesive material can be used for wall signs that want to be mounted flush with the wall—for example, a handwashing sign on a bathroom mirror," says Ari Grazi, president of Indiesigns. "For wall signs in prominent locations like at the entry/reception, we usually use rigid signs, which are 1/4-inch-thick—they add a nice depth to the sign itself, creating a higher-end feel."
The company believes that design-forward signage not only beautifies spaces but also leads to better adherence by the public, further enhancing public health and recovery.
"Visual communication sets the tone for what kind of experience patrons should expect. It provides an emotional context and individual personality for the space that informs how to act and what the patrons' connection to their environment should be," says Grazi. "Signage need not sacrifice aesthetics—in fact, quite the opposite; signage should prioritize aesthetics when the message being communicated is one fraught with hardship, and perhaps even trauma."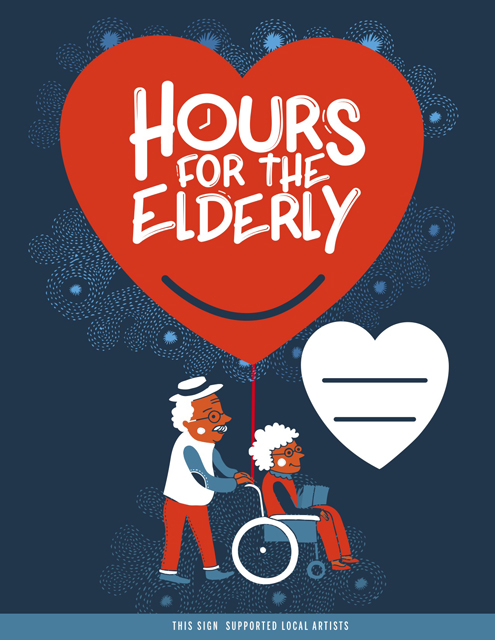 Indiesigns also believes that well designed signage is actually safer. "We've seen stores that opted to use painter's tape or tiny dots, but people just walk right past them," says Grazi. "A big visual—clearly marked—with vibrant colors will catch the customers' attention and lead to safer interactions between patrons and staff."
When planning out sign installs in a retail space, Indiesigns recommends envisioning the entire customer experience from their approach to the store through when they exit. "When placing a sign, the decision should be intuitive, asking questions like: Where are customers looking? How are they moving through the space? How do we make these noticeable without disrupting the flow of people through a space?" says Grazi. "Asking these questions up-front will help establish placement."
Indiesigns has found a lot of demand for artistic and design-forward signage, and the company plans to expand beyond COVID-19 signs. "We have already begun working on some non-COVID signage," says Grazi, "including permanent wayfinding and signage for several hotels and two large malls."
—Ashley Bray