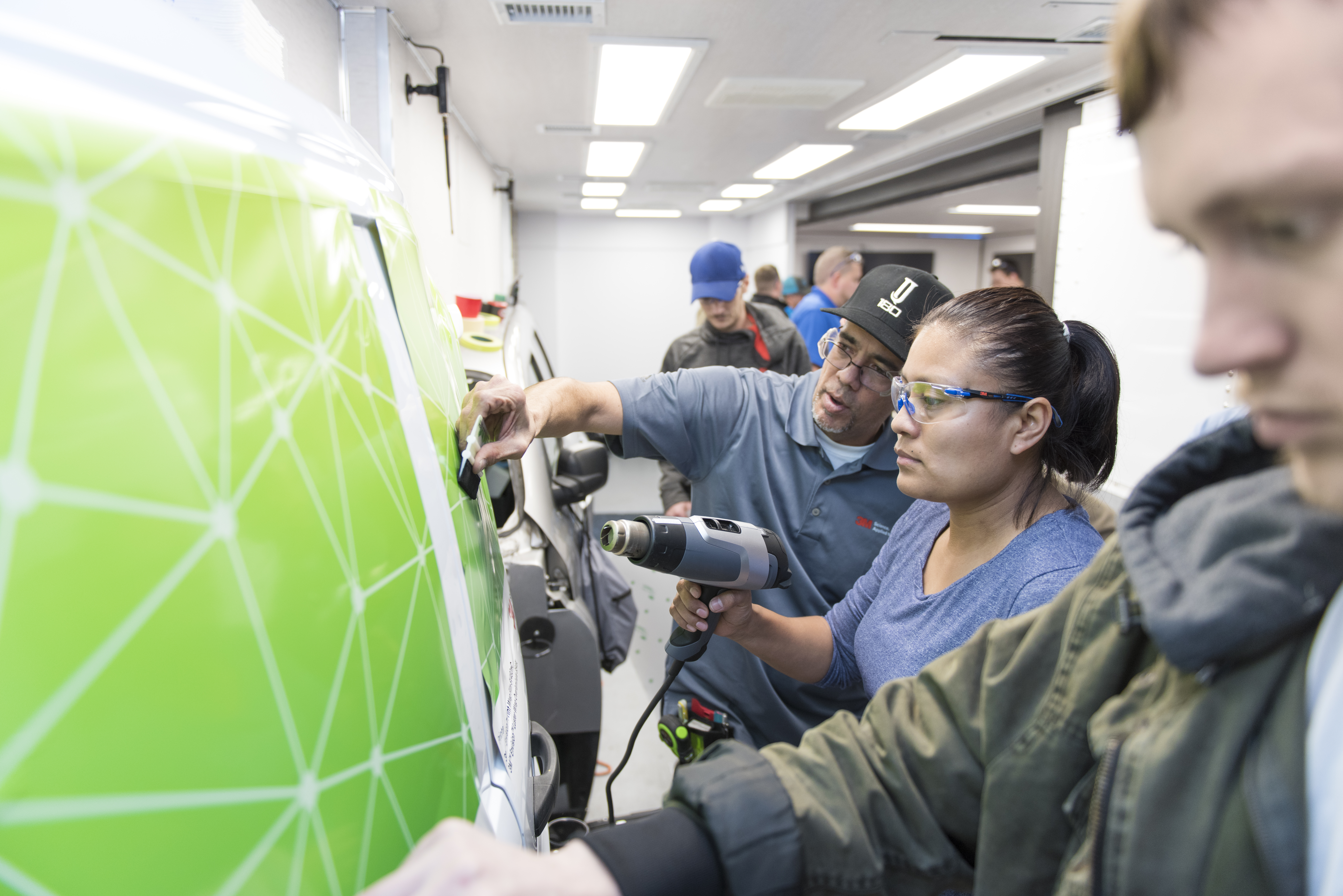 "Essential Tools for Creating Memorable Transformations"
By: 3M Graphics Team
Memorable transformations happen at the intersection of innovative design and flawless execution. The right tools can ensure seamless applications on windows, walls and floors and also alleviate anxiety over graphic failure or customer dissatisfaction.
In this article, you'll discover the tools your team needs to ensure a successful transformation, from how to properly adhere graphics to tips for printing designs and more.
Wall Graphics that Stick
When wall graphics fall down prematurely, whether it's during installation or later down the road, it ends up costing your business time, labor and material to redo the application. However, with the proper prep tools, these kinds of adhesive failures can be prevented.
Besides their verticality, the main reason wall wraps don't always adhere is due to the changes in the paint industry. Today's walls are likely coated in low-volatile organic compounds (VOC) paint, which is the new way manufacturers are formulating paint. While it is beneficial for the environment, it makes it tricky to stick wraps to the wall.
The 3M™ Adhesion Test Kit ensures an optimal bond before you install, thus preempting possible redo's or failures. The test kit will help you determine which print film will deliver a proper adhesion and stay in place for the amount of time the customer desires.
Conducting a test early on should be a part of every graphic shop's routine during the production process. Even if panels don't end up falling off the walls, curling edges and lifted corners are still adhesive failures that negatively impact the final result.
Perfectly Printed Graphics
Transforming a graphic design from a digital rendering to a life-size product is not as simple as clicking "print". Fortunately, printing graphics for nontraditional surfaces like windows, walls and floors, is similar to printing graphics for vehicles. However, there are specific tips for generating flawless designs for different substrates.
An important tool for stunning wall graphics may be unexpected: math formulas. Graphics on surfaces like walls are usually on a much larger scale than graphics on vehicles. You need to ensure the imagery is the proper resolution or that the logo branding is centered properly. Here is an example of a formula that can ensure proper scale: A photograph that is 7" x 8", needs to be reproduced at 49" x 56", at 100dpi. Using the formula, we calculate: 49" (Output Height) x 100 (Image Output DPI) / 7 (Original Height) = 700 dpi (Resolution of scan).
Another tool that is essential to providing ready-to-install graphics is a tape measure. Before designing, printing or installing any graphics, go into the space and measure the area, and then measure again to guarantee the specs are correct. The graphics will translate to the size and shape of the space. 
Textured Surfaces
Textured surfaces such as brick, stucco and concrete require special considerations when it comes to films, tools and techniques to create a paint-like finish with print films.
In order to properly clean a porous and uneven surface, a power washer and brush are effective tools for prepping the area. Once it is dry, adhere the film with a two-handed texture surface applicator TSA4 from 3M with compatible heat gun. Roll along the wall in steady, consistent strokes that overlap by at least one inch each time.
3M offers hands-on training courses specifically for rough wall applications, during which your team can learn about the tools and products necessary to achieve perfect installations on walls.
Reliable Results
Material selection can determine success, and the film you wield is one of the most important tools in your arsenal for achieving reliable results that transform spaces.
Key features that your print films should deliver are versatility, ease of install, optimized initial tack and air release channels for bubble-free graphics. 3M has a wide portfolio of printable films ideal for diverse surfaces, including smooth walls, textured surfaces, glass and floors. 3M™ Envision™ Print Wrap Film LX & SV 480mC is a popular choice for rough walls and windows due to benefits like slideability and design versatility.
Films that shrink or tear due to poor tensile strength will not produce quality results, regardless of the tools you have, skills you possess or fancy equipment at your disposal. The best designs can be a bust if an unreliable print film is used for the project. Compared to any instrument you can use to ensure your work is successful in producing transformative graphics, wrap films are at the top of the list.
Assemble Your Toolkit
Even the most skilled carpenter is only as good as his tools. Being equipped with the proper gear is crucial to reaching the desired goal and creating designs people will remember.
Continue your education on window, wall, and floor applications by clicking this link.