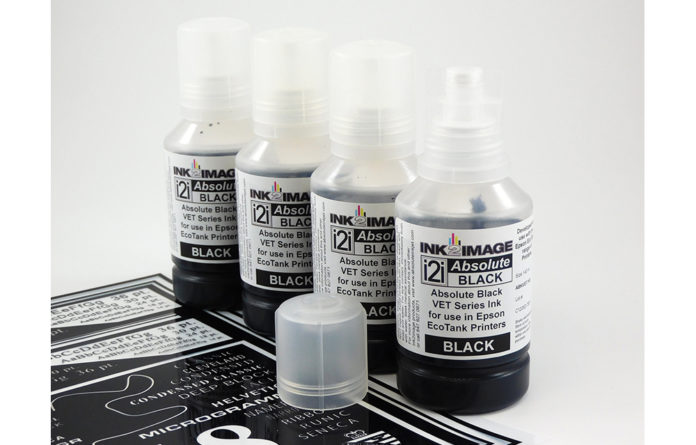 Manufacturer Absolute Inkjet, Inc., has launched Absolute Black VET inks for clear film printing on Epson Ecotank model printers. Using a special UV-absorbing dye that effectively blocks light, Absolute Black inks can be installed in all tanks on a printer for all black film positive/negative printing for use in exposure applications such as screen positives, flexo plates, and photo engraving.
These inks provide superior light blocking compared to regular full-color inks for longer exposure times. Films produced with the inks are also more scratch resistant than regular color inks so films can be kept and re-used.
Absolute Black VET inks are supplied in ready to use 140 ml bottles for easy tank filling and in 1-liter bulk bottles.
Absolute Black VET inks are compatible for use with most current models of Epson Ecotank printers but are especially suitable for the Epson Ecotank Photo ET-8500, ET-8550, and the Epson Surecolor T3170x.
"These latest thirteen-inch- and twenty-four-inch-wide Ecotank models from Epson are ideally suited for film positive or negative printing" explains Absolute Inkjet President Tony Martin. "With these inks installed, these printers produce deep black prints that can be exposed for longer.
"Using bulk ink makes them far more cost effective and reliable when compared to cartridge-based printers."
—Press Release