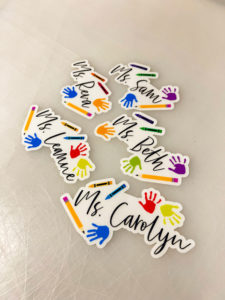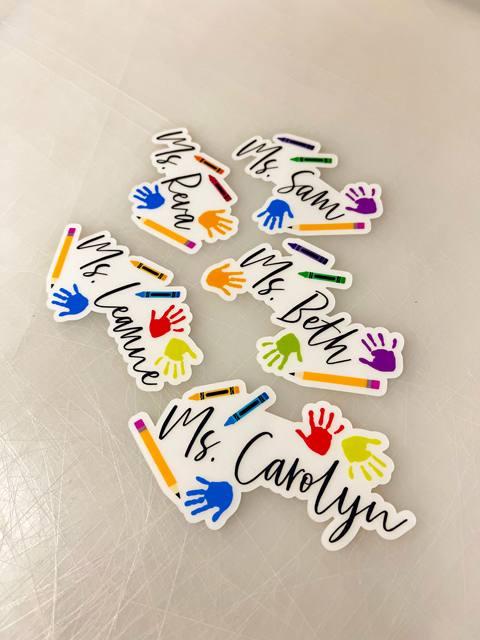 Back when she was teaching high school business classes, Elizabeth Schroer would often ask her students, "What would your business be?" One day, after creating enlarged "bitmojis" to decorate her mom's classroom, she asked herself that very same question.
Encouraged by similar requests from friends and colleagues for the personalized décor that she was creating at the school, her answer was Reimagines, a shop she currently owns and operates in her hometown of Somerset, Kentucky.
Reimagines produces and sells decals, posters, wall and window graphics, and most notably, one-of-a-kind items designed by local artists that are custom-printed onto different products.
"The personalized goods market is huge," says Schroer. "Everyone wants something with their name on it or something that represents them."
Reimagines actually started back in 2019 on Schroer's dining room table but today is located in a standalone building in the downtown area. The business has expanded to e-commerce, as Schroer has shipped to all fifty states and seventeen countries!
Schroer eventually purchased a Roland DG TrueVIS VG2-540 printer/cutter to keep up with full-color production needs (cling, removable vinyl, banner vinyl, canvas, etc.). She also uses a heat press to handle apparel needs and heat transfers.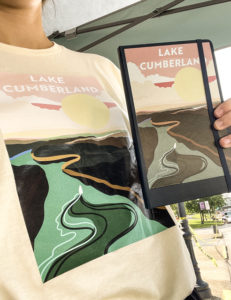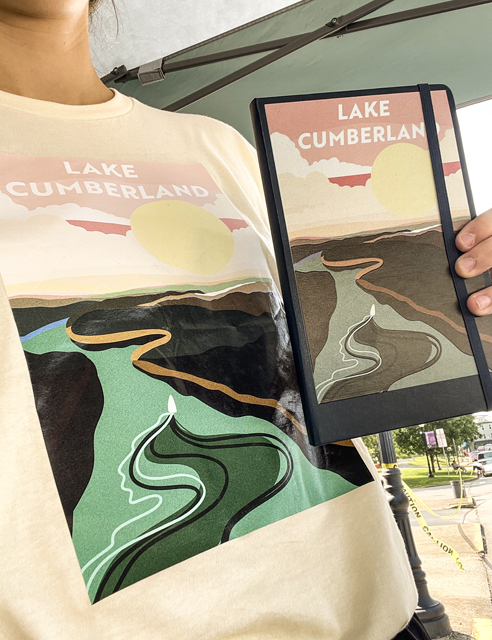 A majority of Reimagine's work is customization. Because Schroer wanted to further enhance her business's offerings by printing directly onto the substrate, she added a Roland DG VersaUV LEF2-300D flatbed UV printer to her production floor. She opted for the deep printing model (printing onto materials as much as 7.87 inches thick), which expands the variety of products she can print onto.
Inks are important for Schroer's business, because the color and image quality of whatever she prints has to be excellent. "The UV-LED flatbed lays down ink just like my eco-solvent wide format printer but cures it immediately," she says. "I can also add a gloss or matte finish on top and highlight certain areas with a texture, which creates a three-dimensional look and feel."
The Reimagines website sports a design request page (including pre-done designs), allowing people to let Schroer know what they'd like for her to produce.
Since Schroer began her career selling directly to teachers and parents, her business has found a niche creating custom decals out of static cling material for classroom doors and windows. "I also offer customized whiteboard clings to help teachers organize the day for their students," she says.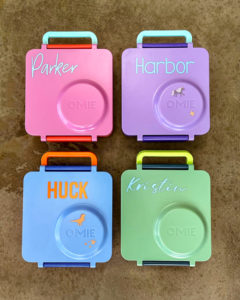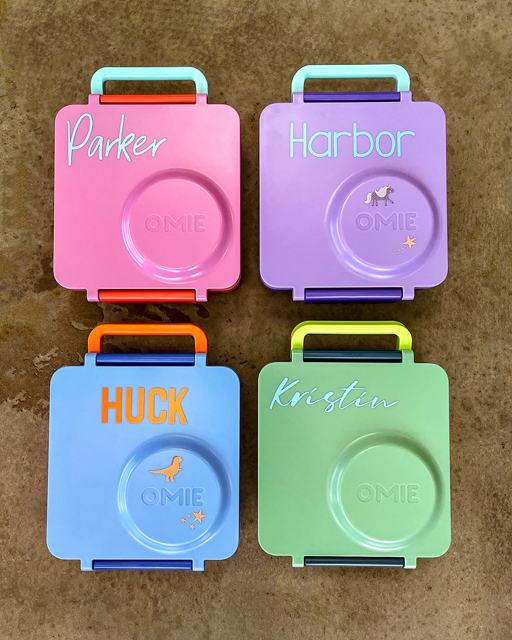 Schroer says that parents are a big market for customized products. She has found these types of clients want to have a fully personalized experience for their children when it comes to parties, gifts, and school.
With this in mind, Schroer started using her flatbed printer to produce custom OmieBox Bento boxes (sustainable lunchboxes), adding the child's name to it and having the customer select the clip art and colors to use. "It's a refreshing change from the cookie-cutter 'sameness' of many popular themed products," she says.
Another niche Schroer has jumped into with her flatbed involves creating higher-end corporate gifts like Moleskine notebooks customized with the company's logo, an employee's name, or both. In fact, she recently produced customized Moleskine notebooks for the local Chamber of Commerce who purchased them for their board members.
In fact, Schroer benefits in this area by having a partnership with the Moleskine notebook producers. "My corporate clients are always looking for personalized gifts," says Schroer. "Promotional products can be cheap and disposable, but if you print a name on it and it's a good brand, then you're providing a high-quality alternative and a thoughtful and unique gift."
One customer recently approached Schroer to add a Proof of Concept, a logo, and instructional arrows to a 3D-printed prototype of an invention they were looking to create. She loaded the 3D-printed piece onto her flatbed table and quickly fulfilled this request.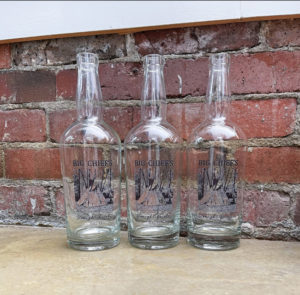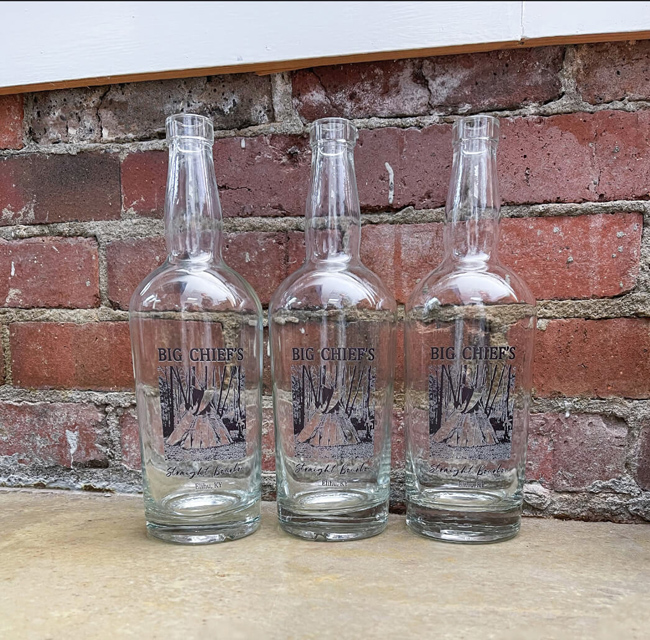 Schroer added an all-metal Rotary Rack accessory to her UV flatbed printer a few months ago in order to print onto round substrates, which has excited her customer base even more.
"Since I started doing lunchboxes, people started wanting a matching water bottles. Things just went from there into gift giving," says Schroer. "I get a lot of customers shopping for gifts so being able to print onto a round substrate really opens you up to a lot more options for them."
With the rotary rack, she prints custom designs on Bourbon bottles for a family keepsake, as well as on candle tins and glass vessels for Somerset Candle Company. The latter is a perfect example of how she is combining her UV flatbed printer and rotary rack capabilities.
"Somerset Candle has these tins that they are creating specifically for wedding gifts and bridal showers," says Schroer. "I employ a two-part process for those.
"I use the all-metal rotary rack to print on the sides of the tin, going all the way around it. I then align the lid onto the table of my flatbed and print directly onto it."
Schroer is a self-taught designer, so it makes sense that she has found success incorporating the works of local artists into her wares. She has created an arrangement with these artists that provides them with commissions, while she handles marketing, sales, and production.
"Artists generally have many pieces of work that they've created over the years– but they may not be able to take their art as far as it could go," she says. "Their work keeps my design collections fresh. I can apply their art directly to canvases, stickers, personalized notebooks, T-shirts, and other items."
Right now, Reimagines is just Schroer. Well that's not exactly accurate. She does bring her one-year-old son to work with her and has even custom flatbed-printed items for his on-site playroom that doubles as showcase pieces to potential customers.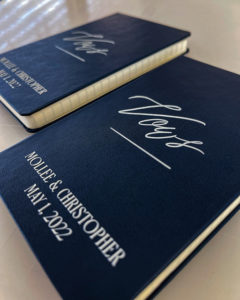 Schroer attracts customers to her shop by placing her biggest machine (the VG2-540) in the front near the window where downtown pedestrians and motorists are able to view her work.
"When it's printing, people can see it in action," she says, "which catches a lot of attention and lets them know the different things I can make."
Schroer says educating the public in the art and technology of her flatbed printer has proven pretty organic. She uploads videos showing her UV flatbed in action and demonstrating the different things that can be printed using it.
"You tell people that you can print onto wood, leather, plastic, and lots of other materials," she says, "and it gets them thinking."
—Jeff Wooten (Additional content provided by Ginny Mumm)