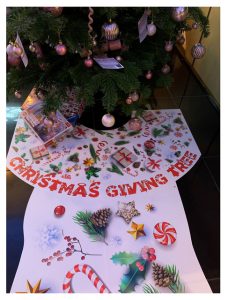 Kent-based custom print business morphmy used Drytac Polar PET 170 film to create a "River of Christmas" floor graphic to help raise awareness for a charity drive at local Indian restaurant Spice Fusion.
The charity drive encouraged visitors to the restaurant during the festive season to donate presents to less fortunate children. Customers could leave their gifts under the "Giving Tree" in the bar area of the restaurant, with the restaurant then passing them on to a local charity.
Just before launching this year's initiative, Spice Fusion contacted morphmy to produce a special floor graphic that would help guide visitors to the Giving Tree, as well as mark the area where they could leave their donated gifts.
"I only had one day to create a design and print ahead of laying the graphics, so we selected a fairly straight forward scheme," says morphmy Onwer Rob Oldland. "I designed it in such a way that I could make a final decision for cut and placement on site to reduce the amount of design time and back and forth with the customer."
This tight turnaround time meant Rob Oldland had to select a material that was both flexible and easy to work with.
Having used a number of Drytac materials in the past, he selected Drytac Polar PET 170, a scuff- and tear-resistant material for short-term indoor applications where the printed graphics need to remain both visible and vibrant, while meeting slip-resistance certifications.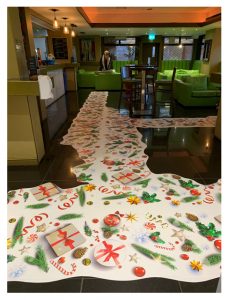 A colorful, festive-themed design featuring baubles, candy canes, holly, and wrapped presents was printed on the film using a Roland VG2-540.
"I have found this film to be a great all-rounder for floor or wall projects I have worked on in the past and it was the only suitable media on hand that would meet the requirements for this job," explains Oldland.
morphmy only launched in September this year, with Oldland currently operating the business from his home in Gillingham in Kent. However, plans are in place to relocate the business to its own premises in 2022 as part of wider growth plans, in which Drytac will also play a major role. "We've purchased the Drytac media through Signmaster Systems. Their team have been invaluable helping me to select the right media for the right job," he says.
Oldland has been using Drytac Polar Premium for racecar decals, as well as Drytac SpotOn for creating huge feature walls. "I have a background in design and have worked with cut vinyl for a number of years as a hobbyist," he says.