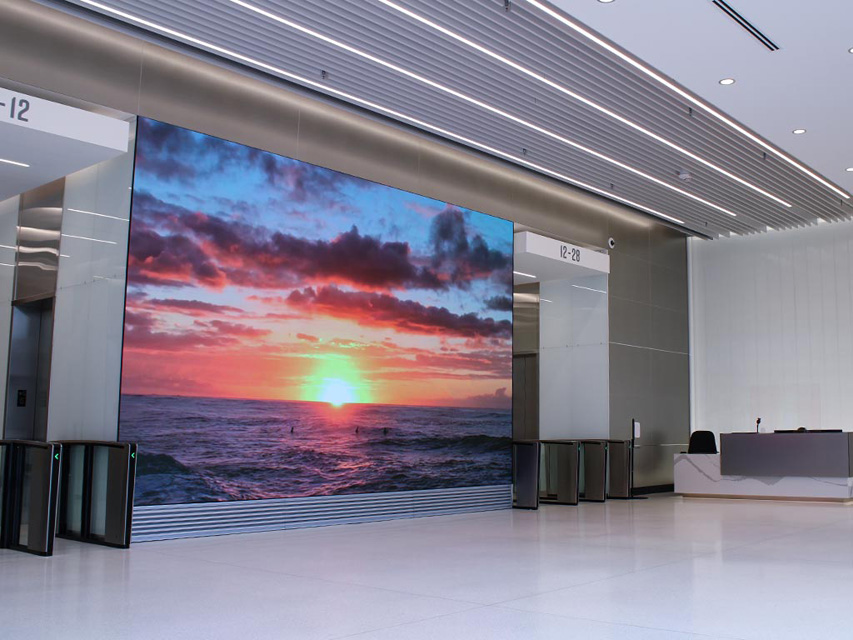 The Associated Bank River Center, a newly renovated high-rise in Milwaukee's downtown entertainment district, modernized its visitor experience with two high-end LED display systems from SNA Displays' BOLD™ Interior line of digital displays. The center's revitalization effort will feature numerous modern amenities, including a 100-person conference center, a fitness facility, and an upscale lounge overlooking the Milwaukee River.
Visitors to the northwest entrance lobby are greeted by a new 13-foot-high-by-21-foot-wide LED video wall just outside the tower's first-floor elevator hall. This display, which is viewable to traffic outside the lobby's glass-façade entrance along East Kilbourn Avenue, features a pixel pitch of 2.5 mm and includes more than 4.1 million pixels (1,620-by-2,560).
Down the hall from the lobby along the reinvented tower connector is a forty-one-foot-long LED display that wraps around a hallway corner opening up to the Saint Kate Hotel. The large format interior videowall is also built with a 2.5 mm pixel pitch from SNA Displays' BOLD product series. The six-foot-tall display includes more than 3.5 million pixels (720 x 4,960) and features a convex curve with a 12-foot radius.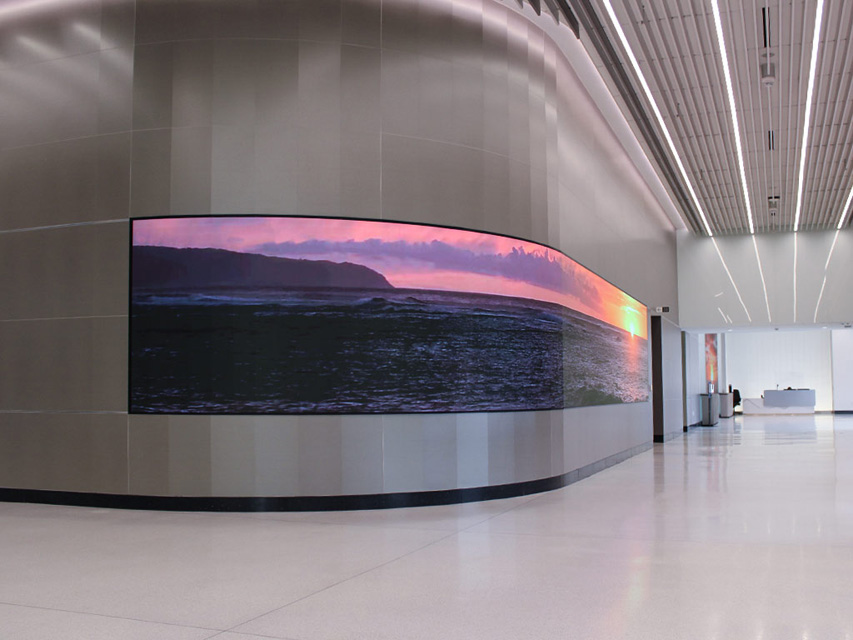 "The striking element of the new displays is the beautiful digital art the River Center is featuring on them," said Mikell Senger, project manager for SNA Displays. "This kind of digital content sets a positive vibe, stimulates interest, and really makes these kinds of spaces really stand out."
Both direct-view LED displays feature custom content from digital art and brand experts cFire.
SNA Displays' Client Services Group, which offers managed services for digital signage networks, is contracted to manage the content on behalf of commercial real estate management firm Colliers.
"We were happy to offer the CSG team for operations support," said Mike Sabia, director of SNA Displays' Client Service Group. "Our engineers monitor the display output, network health, and equipment status daily and manage all aspects of scheduling and service so the owners can simply enjoy the displays without worry or dedicated resources."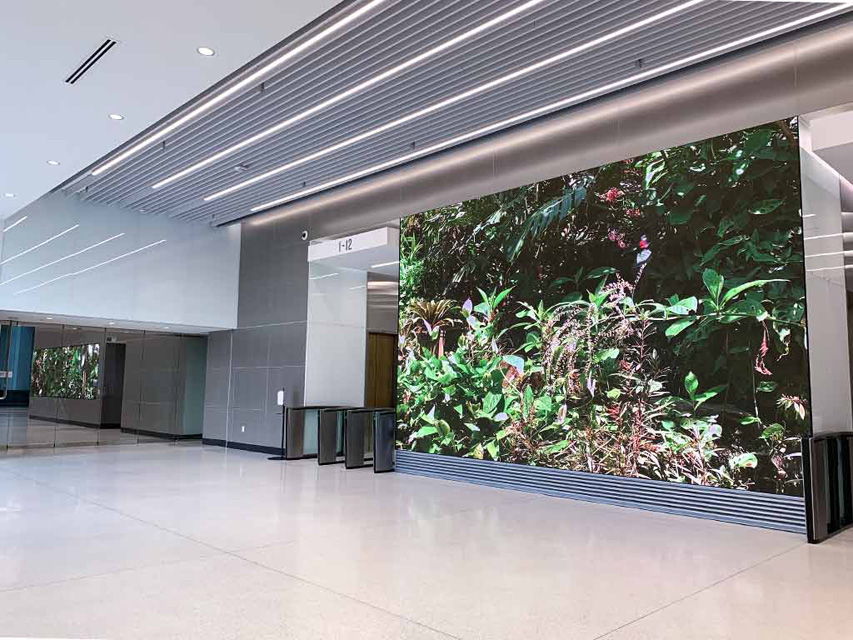 SNA Displays worked closely with builder J.H. Findorff & Sons and architect firm RINKA to coordinate architectural details and decorative finishes around each display. Camera Corner Connecting Point (CCCP), an installer and integrator SNA Displays has worked with on multiple indoor and tight-pitch technologies, provided installation services.
The Associated Bank River Center, formerly the Milwaukee Center, is a staple of the Milwaukee skyline. The mixed-use development houses the newly rebranded Saint Kate Hotel, the Pabst Theater, the Milwaukee Repertory Theater, and numerous bars and eateries.
—Press Release