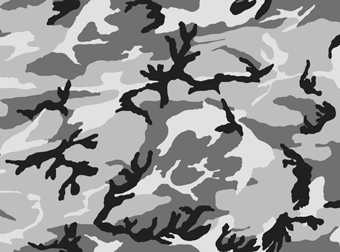 Imagine being able to personalize your print-and-cut material with any pattern! With new Digi Patterns™ from Siser, you can take lettering and logos to the next level by filling them with a dynamic three-dimensional or textured pattern that will make them pop off the shirt!
Express your creativity without limits on a plain white roll incorporating digital pattern technology. At www.siserna.com, there's a world of patterns that are available for you to download free of charge. Why choose one material if you can have them all?
Go from white to "wow!" Print whatever text, logo, or design you like, at any time!
Whether a pattern is used for lettering or a shape, these designs add texture and dimension to any heat-applied graphic. Fashion designs include skulls, a variety of abstracts, blue jeans, and a range of camouflage variations (pictured). Animal prints include leopard, zebra, giraffe, and snake. Other choices include puzzle, bricks, and a diamond pattern (to name a few).
A logo or name can be printed over the pattern as well. Digi Patterns will work with all of Siser's most popular print-and-cut materials including Colorprint™ PU, Colorprint Sublithin™, ColorPrint™ Extra, Colorprint™ Classic, Colorprint™ II, and Colorprint Evolution™.