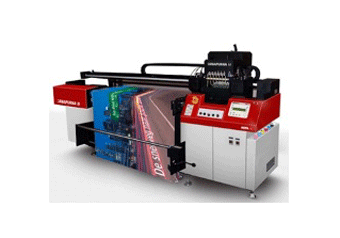 Agfa Graphics has announced today that its wide format digital printing experts will be on-hand for the company's free Open House Technology Demos coming up in November. The latest in wide format UV inkjet printing systems, inks, software and more will be demonstrated during the open house event being held at the company's demo facility at 4005 Royal Drive, Kennesaw, Georgia, on Wednesday, November 16 and Thursday, November 17 from 10:00 am to 4:00 pm EST.
Those who want to learn about digital inkjet printing systems are encouraged to attend the open house—which will include demonstrations of printing systems from Agfa Graphics, HP, and Epson. Attendees can also learn about Agfa Graphics' inks and other production technologies associated with inkjet printing, such as finishing systems, color management tools, web portals, job estimating software and more.
The Open House will also showcase an extensive media assortment that includes Agfa's new Synaps UV, an environmentally-friendly, premium waterproof substrate, as well as substrates from 3M, Transilwrap, Alcan, 3A Composites, Neschen and more.
"Wide format inkjet is the fastest growing segment in the printing industry and is helping many printers deliver new and exciting products and services to their customers that previously were unattainable," said Deborah Hutcheson, Director of Marketing, Agfa Graphics, North America. "We will demonstrate how printing with white can help digital print providers distinguish themselves and their work while offering higher levels of profitability."
Among the printing systems being demonstrated are:
* Agfa's :Anapurna Mw
* HP DESIGNJET L25500
* Epson Stylus Pro 7900
* Epson Stylus Pro 11880
* Epson GS6000
Anyone interested in attending the open house is required to register for the event. Please call or email Catherine Hines at 800/526-5441, ext. 2049, or email [email protected].
For more information about Agfa Graphics, visit www.agfagraphics.com.