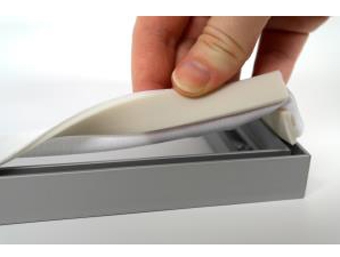 E. L. Hatton Sales Co., maker of Banner Ups® adhesive banner finishing tabs and tapes, now introduces Banner Ups® KederTape, an adhesive-coated keder that can be press-applied to fabrics for Silicone Edge Graphics (SEG) signs. "Keder" is any flexible polymer welting strip that, when fastened to textile prints, allows them to be tightly inserted into aluminum SEG frames, making distinctive backlit or frontlit signs.
KederTape adheres permanently to textile fabrics without sewing, allowing anyone with textile print capabilities to get into the SEG market without investing in sewing equipment, operators, or maintenance staff. Simply peel and stick to the textile edge.
Unlike sewing, KederTape is repositionable so users can achieve the perfect size and tightness without risk of ruining the graphic. KederTape has passed extensive testing by major textile equipment and media manufacturers and demonstrated long term durability needed for SEG signs. It is available on convenient eighty-foot spools.
"Textile printing is growing, but not as fast as it could be, due to the cost and skill barrier of sewing," says company President Rick Hatton, "KederTape eliminates that barrier for small companies, and offers large printers who already have sewing rooms a way to eliminate production bottlenecks by quickly scaling up with a low- labor-cost method to scale up output."
An instructional video on KederTape may be viewed at http://bannerups.com/kedertape. Complete videos for banner-making techniques are available at http://www.bannerups.com/videos.