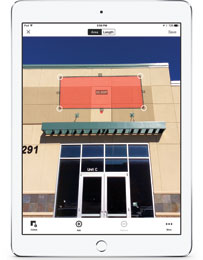 When Commit 2 Be Fit 4, a personal training facility in Colorado Springs, Colorado, needed a set of channel letters, Freeman Signs came in to do the heavy lifting on the project.
Freeman Signs became involved with the job thanks to a lead from a construction client. The full-service sign shop, which was founded in the late 1940s, does everything from banners to monuments to pylon signs and more and is no stranger to channel letters.
On this particular project, they started with a site survey of the Commit 2 Be Fit 4 building. Freeman Signs Account Executive/Designer Glenn Chambers used one of his company's two Spike devices from ikeGPS to find the measurements of the space on the building where the channel letters would be installed.
(Note: Spike is a laser measurement solution that allows users to capture real-time measurements and the location of an object—all from a photo.)
Chambers also used the Spike device to take the door measurements for possible upsell opportunities.
"If I go and survey a building, I'm always going to grab the door measurements, in case the client comes back and says, 'Hey, I'd like some window vinyl,'" he says.
By using Spike, Freeman Signs saved money because they didn't have to send a truck out to take the initial survey measurements.
For the final survey, however, Chambers still recommends sending someone in. "After you sell the job, you still want to have a journeyman or a service guy go out and do a physical survey where they look for access and stuff like that," he says.
Using his measurements, Chambers started work on the design. He typically uses Corel™ when designing, but he also works with Adobe® Illustrator® and Photoshop®. There was little back and forth on the design approval, as the client immediately liked the fourteen-foot-wide set of channel letters with red acrylic faces spelling out "Commit 2 Be Fit 4."
"I always try to sell red in certain cases, because it's the brightest channel letter you can get," says Chambers. "Nobody wants a yellow sign."
Permitting was no sweat either and was completed in under two days.
"Colorado Springs is very easy as far as permitting goes," explains Chambers. "Basically we submit our permit application online, and it's usually twenty-four to forty-eight hours for approval."
The channel letters are made of five-inch-deep .012 aluminum returns painted black as well as 2793 red acrylic faces with one-inch black trim cap. The letters stand sixteen inches tall and the numbers "2" and "4" stand twenty inches high.
The letters are illuminated by LEDs from SloanLED, which were affixed to the back of the letters using 3M VHB tape.
(Note: The letters were fabricated by hand. If the shop gets overwhelmed, it occasionally subs out work to Direct Sign Wholesale, since they have an Accu-Bend machine; but, in general, they try to keep everything in-house.)
The letters were riveted to an aluminum raceway painted to match the fascia. "We used a raceway on these because that fascia is cinderblock, and when you put all those holes in it, it's hard to patch and match the color," says Chambers. "So by putting them on a raceway, you save a lot of penetration holes. We conceal all of our wires and transformers inside of that raceway as well."
The raceway also makes installation easier, as Freeman Signs attached the letters to the raceway in the shop prior to bringing it to the install site.
With the sign assembled as one unit, Freeman Signs loaded it onto the shop's sixty-foot Elliott boom truck and drove it out to the job site.
Freeman Signs also used its boom truck to install the sign by through-bolting the raceway to the fascia with all-thread rods.
In total, fabrication and installation took about four weeks to complete, and now the training facility has a trim set of channel letters to admire every day!
By Ashley Bray
Photos: Freeman Signs, ikeGPS, Freeman Signs