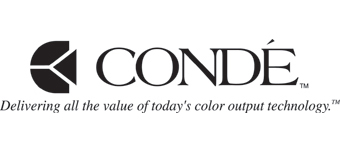 Condé Systems
is now offering DyeTrans roll media for use with its successful line of Ricoh GX Series Printers, including the Ricoh GX e3300N and GX7000 Dye-Sub Printers. Available in 8.5″x100′ and 13″x100′ rolls, the paper can be easily cut to a desired length and loaded directly into the selected printer's multi-bypass tray. By creating a User Defined Paper Size in the printer's driver (up to 8.5″x51″ for the GX e3300N and up to 13″x51″ for the GX7000), digital decorators can print transfers for uniquely-sized products such as neckties, scarves, interior signage, and fabric banners. This simple change can help digital decorators produce a larger variety of products without having to purchase additional equipment.
DyeTrans media is an excellent all-around paper that provides superb image clarity and color on hard and soft substrates and is available in 3.5″x9.125″, 4″x9.5″, 8.5″x11″, 8.5″x14″, 11″x17″, 13″x19″, and 17″x22″ cut sheet sizes (100 sheets/pack). 8.5″x100′, 13″x100′, 17″x100′, 24″x250′, 36″x250′, 44″x250′, 54″x250′, and 60″x250′ roll media is also available.
By offering a variety of cut-sheet and roll media options, Condé helps customers choose the right media for the right application, ensuring improved productivity and superb transfer quality.