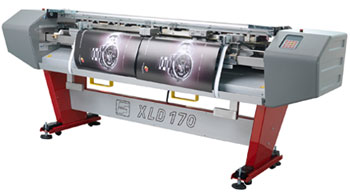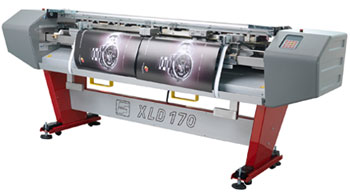 Colex
introduces its Fotoba Dreamcut XLD-170 67-in-wide Automatic Cutter designed to work with both rolls and sheets.
With the Dreamcut's automatic feed alignment, users do not have to worry about print misalignment. The Dreamcut will automatically realign to the edge of the printed image to produce square-finished images even if the printer fails to print parallel to the media edge or if it fails to wind up the rolls squarely.
The Dreamcut XLD-170 uses the FOTOBA cut marks that are standard in all popular RIP software. It is capable of handling the output of several printers and is the ideal companion to all new fast printers including 5 meter/16 feet machines printing three, 60-inch rolls simultaneously. A 150-foot roll of media can be cut in less than 15 minutes.
The Dreamcut XLD-170 cutters can handle flexible media up to a maximum thnickness of 0.8 mm (35 mil.), including polycarbonate, photo paper, vinyl, self-adhesive vinyl, PVC, film, duratrans, TDF, canvas, laminated or encapsulated prints, and much more.