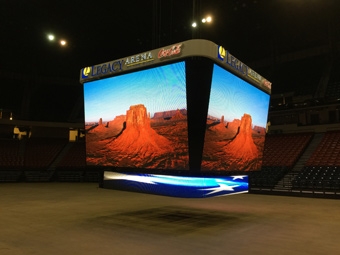 Daktronics of Brookings, South Dakota, has designed, manufactured and installed an upgraded centerhung LED video display system at the Birmingham Jefferson Convention Complex's (BJCC) Legacy Arena in Birmingham, Alabama. The new four-sided centerhung system replaces the previously existing thirteen-year-old installation from 2002 and will provide an enhancement to the visual aspects of any event held at the venue.
"We could not be more pleased with the visual impact and overall design of the centerhung display upgrade designed by the Daktronics team," said Tad Snider, Executive Director and CEO of the Birmingham Jefferson Convention Complex. "The project had an extremely tight timeline between finalizing the funding and the first event requiring use of the new display. As the project progressed we never doubted the work would be completed in plenty of time."
The square-shaped centerhung consists of four video displays that each measure roughly 10.5 feet high-by-15.5 feet wide and feature a tight 6 millimeter line spacing for pristine image clarity and contrast. The technology's wide angle visibility allows for a great view of the displays from every seat.
The main displays feature variable content zoning which allows them to show one large image or be divided into multiple different zones to show a wide variety of content, very flexible for handling a multitude of different events hosted at the convention center.
Below the four main displays is an outward-facing, ring-shaped LED display measuring 2 feet high-by-58 feet in circumference and featuring 10 millimeter line spacing. This display provides additional space for sponsorships, graphics and other supplemental content in conjunction with the main displays.
"We're excited to continue our partnership with the BJCC by upgrading their existing centerhung system to the latest LED video and advertising display technology," said Glen Marts, Daktronics sales representative. "The new centerhung displays will take the events at Legacy Arena to the next level and I can't wait to see everything in action."
In addition to the equipment installation, the BJCC will also receive a bank of hours for the creation of digital content to be produced and delivered by Daktronics Creative Services. This content will consist of any mixture of sponsorship messages and venue announcements at the BJCC's request.
Daktronics LED video and messaging display technology offers a long lifetime with consistent, industry-leading performance and low power consumption, providing value and excitement for years to come.