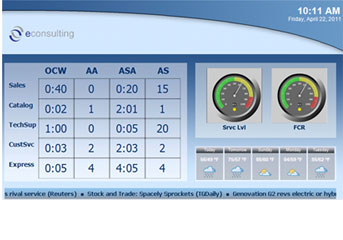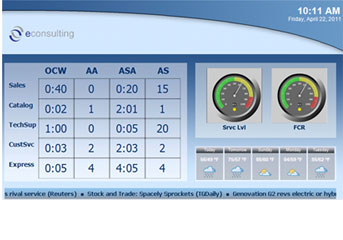 Four Winds Interactive
(FWi), a digital signage software company, and Inova Solutions, a real-time contact center data reporting company, have teamed up to market a digital signage solution created specifically for contact centers.
"The partnership between Inova and FWi provides contact centers with a best-of-breed solution," said Inova Solutions CEO Pete Sisti. "Inova's reporting middleware captures the important real-time metrics that call centers need, and FWi's digital signage software visually presents those metrics alongside messages and other media in an attractive and dynamic display."
The new digital signage software package easily integrates with data sources such as ACD switches and internal ODBC databases. The user interface allows for multiple content types, such as weather, RSS feeds, Microsoft®PowerPoint®files, Adobe®PDF files, images, and more to be artfully displayed on large format LCD screens. Inova's LightLink™ middleware populates grids, gauges, and charts with the real-time data that call centers need to run smoothly.
"FWi is thrilled to be working with Inova," said Dave Barker, director of Business Development for FWi. "Together we're able to combine Inova's powerful contact center technology with FWi's industry-leading visual management solution to deliver world-class solutions for contact centers around the globe."