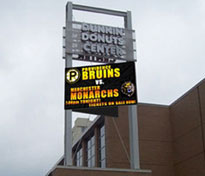 Lori Shridhare

As technology continues to improve, the capabilities of digital displays are growing, and they are entering more applications. Daktronics Regional Sales Manager Ross Yanco recently commented on some of the trends in digital signage.
Yanco says that one of the hottest developments right now is IPTV, or Internet Protocol Television, which can deliver multiple live content channels to any display in a facility via a secure, in-house computer network.
"This allows the venue to control every display in the facility, from the main, center-hung video display to LCDs in the concourses," says Yanco. "Users can format IPTV channels to feature an endless variety of digital content ranging from live video feeds to in-house event calendars. In addition, since IPTV is built around a computer network structure, it can be expanded to accommodate nearly any form of digital media."
In addition, Yanco says that many venues are now connecting their interior displays to installations on the outside of the building—a strategy that allows fans to stay engaged with content while on the street and continuing when they take their seats. Some venues are even considering erecting highway digital billboards for even more visibility and to engage fans even earlier in the process.
The Boston Convention Center recently received a system that brings together exterior and interior displays to engage visitors via wayfinding and advertising. And the Amway Center in Orlando, Florida has employed a marquee using Daktronics' "freeform LED stick element." "While visitors outside the building can view the marquee, those inside have an unobstructed view allowing them to see through the back of the display, as if it were a window," says Yanco.
From a marketing perspective, Yanco says that as we head into a future of more integrated social technology, audiences will demand that their displays follow suit. "As fans continually grow more savvy and connected, the video displays need to match that," he says. "Integrating stats, social media, and advertisers into one seamless production is always the goal. In addition, the use of LED on the outside of the building will continue to grow."
For example, he notes that Daktronics is currently installing a project at Phoenix Island that will be covering every building on the island with LED. "The curtain-wall on the outside of each building was specifically designed to house the Daktronics LED stick elements," says Yanco. "This shows the potential for how building design will be impacted by LED video technology. The demand for larger and higher resolution displays has continually trended upward, and we don't expect that to slow."
Photos courtesy of Daktronics.