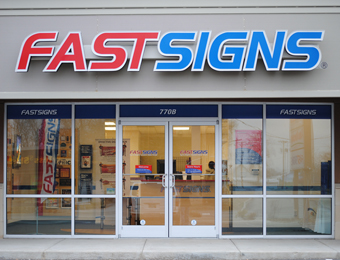 Continuing to support the men and women who have served in the United States Armed Forces,
FASTSIGNS® International, Inc.
, the world's premier business-to-business marketing solution franchise with more than 530 locations, was selected as one of the
50 Top Franchises for Military Veterans
by the World Franchising Network.
As part of a targeted new Web site and recruitment program for military veterans by the World Franchising Network, the fifty franchises were selected from a list of hundreds of franchise concepts. Highlighting franchisors offering an enticing mix of benefits to veterans—including sizeable and meaningful reductions in franchise fees, among other incentives, the list also took into account the number of operating units owned by veterans within a franchise, as well as the number of veterans in senior management positions.
"We take great pride in being recognized as one of the top franchise opportunities military veterans can turn to as they return to civilian life and search for promising business ventures," said Mark Jameson, senior vice president of Franchise Development for FASTSIGNS. "The proven business systems we have implemented, along with the life skills veterans have gained during their service, create the perfect combination to foster future success.
FASTSIGNS welcomes veterans into its system with open arms. Men and women who have served in the United States Armed Forces develop the drive, motivation and discipline needed to become successful business owners. Veterans choosing to join FASTSIGNS are allowed to take advantage of specific benefits. Financially, FASTSIGNS offers a reduced franchise fee of $15,000 for veterans compared to $27,500. Also, with more than 300 markets available, veterans have the flexibility to open a location in their ideal market.
Jameson adds that FASTSIGNS' commitment to helping veterans start new careers has grown over the past years with its active participation in the Veterans Transition Franchise Initiative, known as "VetFran", a national program designed to encourage franchise ownership. Additionally, FASTSIGNS recently secured $4 million in financing for franchisees opening new centers, ultimately creating further opportunities for business ownership.
"Amazing corporate structure and the satisfaction of other FASTSIGNS owners is what initially grabbed my attention as a potential franchisee," said Kelly Harward, an Army veteran who opened his Washington, Utah, FASTSIGNS location in March 2010. "I felt a true commitment from FASTSIGNS corporate to see franchisees succeed."
For franchise information, contact Mark Jameson or Brian Wieters at [email protected] and [email protected]. Mark and Brian can also be contacted by calling 800/827-7446.