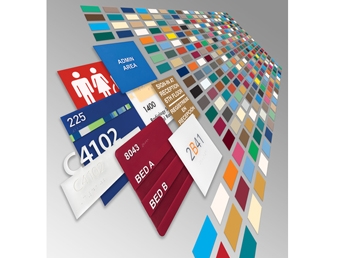 Gemini announces its DuetsTactiles™ plastic sheet stock for ADA, wayfinding and appliqué offers the largest choice of color options in the industry today. With forty-seven color choices available, DuetsTactiles allows specifiers, architectural sign companies, and end-users to meet a variety of interior or exterior ADA, wayfinding, and branding specifications.
DuetsTactiles ADA substrates are designed for laser or rotary applications, and are ideal for ADA and appliqué, wayfinding, architectural signage, exhibit display, retail display and interior branding.
Manufactured with superior quality in Gemini's state-of-the-art Class 10,000 cleanroom facility, DuetsTactiles offers impact modified acrylic in a matte, non-glare finish. To meet diverse design specifications, substrates are available in several thicknesses, with and without adhesive, including 1/32-inch (0.8mm), 1/16-inch (1.6mm), and 1/8-inch (3.2mm).
"We want to provide our customers with the most design flexibility for their ADA and wayfinding signage projects by offering an industry-leading array of color options," said Gary Harder, Director of Duets by Gemini. "With 47 color choices, manufactured in a Class 10,000 cleanroom, we offer the broadest selection and highest quality of ADA and applique sheet stock."
To assist customers in selecting appropriate color combinations to comply with the American with Disabilities Act Accessibility Guidelines (ADAAG) as it pertains to the design and installation of Americans with Disabilities Act (ADA) signs, Gemini has worked with industry experts to develop the ADA color and contrast guide. This complimentary guide provides an overview of ADA signage compliance guidelines with information on font, sizing, mounting, positioning, color contrast, and surface reflectivity requirements. Request a free copy of the DuetsTactiles ADA Color and Contrast Guide on DuetsByGemini.com.
To learn more about DuetsTactiles plastic sheet stock, or to see available color options, visit www.DuetsByGemini.com.