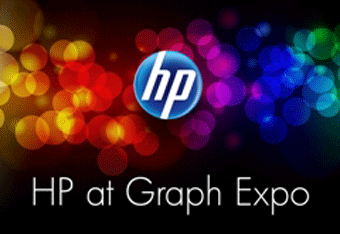 HP announced a speed upgrade for the HP Inkjet Web Press, a faster Color Print Module imprinting imager, and the availability of new prepress and finishing solutions for HP Indigo systems at the Graph Expo tradeshow in McCormick Place (HP booths 2610 and 3210) being held September 11-14.
The solutions and new features include:
* Complete, high-end production lines, including the flagship HP Indigo 7500 Digital Press in streamlined, end-to-end operating environments with the newly available PageReady finishing system from Lasermax Roll Systems;
* A speed upgrade for the HP T200 Color Inkjet Web Press that doubles throughput on full-color jobs; and
* The new HP C500 Color Print Module and HP M500 Monochrome Print Modules, which enable high-speed variable-data imprinting on web offset, digital and mail printing lines at affordable prices.
"As the graphics market shifts from analog to digital printing, we are helping print service providers grow their businesses with new capabilities, enabling them to expand into new application areas and improve delivery times for high-volume digital printing," said Jan Riecher, vice president and general manager, Graphics Solutions Business-Americas, HP. "HP is committed to creating solutions that help PSPs address their customers' changing needs and provide tangible business results quickly."
A Decade of Growth and Innovation
At this year's event, HP also is celebrating the ten-year anniversary of the agreement to acquire Indigo N.V., which was announced at McCormick Place during the PRINT 01 tradeshow. Since becoming part of HP, the Indigo business has grown substantially, experiencing double-digital growth in page volume every quarter since 2003, including 23 percent growth year over year in the company's most recent fiscal third quarter.
With more than 6,000 presses installed worldwide, including numerous installations at seven of North America's top 10 printing firms, HP Indigo liquid electrophotographic printing technology continues to be a preferred digital printing platform for offset-quality production in high-impact marketing and many other uses.
End-to-end Productivity
The Lasermax Roll Systems PageReady shown at Graph Expo is now available for sale worldwide. The in-line slitter/cutter/stacker solution uses fully automated job setup features to help customers go directly from file to finished product.
Lasermax Roll Systems is one of many HP Graphics Solutions Partner program members participating with HP at Graph Expo, including CP Bourg, Datatech Smartsoft, DirectSmile, Duplo, EMT, GMC, Lumapix, Magnum Digital Solutions, Mediaclip, MindFireInc, Pageflex, Pixfizz, PressWise, Prisme Technologies, PTI Marketing Technologies, Standard Finishing, Taopix, and Ultimate Technographics.
Higher Productivity for HP T200 Color Inkjet Web Press
The new, high-productivity color option for the HP T200 Color Inkjet Web Press is scheduled to be available early next year. (Note: In some cases, solutions based on the HP T200 Color Inkjet Web Press platform will be available through an HP-authorized reseller or systems integrator.) The upgrade for the 20.5-inch-wide duplex press increases color printing speed up to 400 feet per minute at full black density and lower color density—twice the standard color operating speed for the T200 model.
The upgrade is available for both new and current T200 customers, allowing them to benefit from advances in inkjet technology while preserving their original capital investments. In conjunction with the speed upgrade, Pitney Bowes, which uses HP Inkjet Web Press technology in its IntelliJet™ Printing Systems family, also is announcing this higher speed color option for its IntelliJet™ 20 Printing System.
HP also announced that Appleton Coated has licensed ColorPRO technology, providing uncoated ColorPRO papers for use with HP Inkjet Web Presses. Appleton Coated's Uncoated Inkjet with ColorPRO technology papers deliver high image quality on HP Inkjet Web Presses but do not require the use of the presses' bonding agent.
HP C500 Color and M500 Monochrome Print Modules
The HP C500 and M500 Print Modules complement the company's current portfolio to help PSPs easily and effectively enhance preprinted content with variable-data imaging to increase response rates. The two new modules offer inline imprinting, delivering 600-dpi text and graphics at speeds up to 500 feet per minute. These inkjet modules use the latest HP Scalable Printing Technology, including auto-switching ink containers and an automatic service station for printheads.
The HP C500 Color Print Module is an improved version of the HP C400 module, offering customers a set of new features for process color web imprinting applications, including additional speed for improved productivity and new precision rail mounting attachments for easy repositioning of the print module across the web. The C500 also will be available with larger ink supplies for longer, continuous printing in high-speed, high-volume production environments.
Three firms exhibiting at Graph Expo are showing HP C400 Print Module-equipped solutions. Pitney Bowes (booth 2010) is showing the C400 in its Print+ Messenger™ Color Inkjet System. Kirk-Rudy (booth 4402) is showing the C400 as part of its KolorJet cut-sheet production line. In addition, Bell and Howell (booth 3611) is showing the C400 as part of an envelope wrapper solution from CMC.
Software and Workflow Solutions Boost Productivity
Software solutions on display at Graph Expo, including HP Exstream and new versions of solutions from the HP SmartStream portfolio, offer faster operation, reduced prepress time and improved planning in data-driven, variable-data printing environments.
* Version 4.5 of the HP SmartStream Production Pro Print Server offers more than a dozen improvements for HP Indigo customers, helping to manage color, quality, automation and imposition. In addition, an upgraded raster image processor engine on the server can handle file artwork transparencies in half the time (compared to previous versions of the HP SmartStream Production Pro Print Server).
* HP SmartStream Designer software, version 5.5, supports the newest version of Adobe® InDesign software and offers significant enhancements, including the ability to add personalized maps, advanced variable text and data flow options, and support for clear coating of variable data using the Scodix Digital Embossing solution.
* HP SmartStream Production Analyzer, the management-level dashboard tool for customers with multiple HP Indigo presses, has a new version 1.7 that can provide highly detailed reporting as well as customizable analysis of shift results.
Transforming Large Format Printing to Latex Platforms
As the worldwide leader in large-format digital signage and graphics printing, HP continues to advance the market's migration away from solvent-based inkjet platforms. The company has sold more than 7,000 HP Latex Ink printers, in addition to its large installed base of HP Scitex flexible media, convertible and flatbed UV-ink printers.
PriscoDigital, an HP Graphics Elite Business Development Partner, is exhibiting the HP Scitex FB700 Industrial UV-ink flatbed printer in the Prisco (booth 201) Graph Expo exhibit. PriscoDigital also is demonstrating the HP Scitex LX850 Industrial Printer, the newest HP Industrial Latex Ink wide-format printer for the indoor and outdoor sign and display market.
Delivering high image quality at production speeds, the HP Scitex LX850 Industrial Printer allows customers to accelerate their wide-format workflows and handle new applications. For example, it features a built-in ink collector for direct-to-fabric printing(5) on flag fabrics, and the printer's dual-roll, roll-to-free fall and roll-to-collector media handling offerings improve productivity. New HP LX610 Latex Scitex Inks for the printer can produce eye-catching images with rich blacks and glossy results on banners and self-adhesive vinyl.
Capture and the Dscoop community
The Digital Solutions Cooperative (Dscoop), the HP users' group, is providing information at Graph Expo on how HP customers can share knowledge and best practices. HP's executive sponsorship of Dscoop comes through the HP Capture business development program, which provides an extensive and growing offering of tools, training and consulting services that help PSPs profitably sell more digital printing and expand into new markets.
One HP Capture offering being released at Graph Expo, version 3.5 of HP Smart Planner software, is a comprehensive estimating tool to help customers compare the return on investment possible for digital versus analog printing.
HP offers flexible financing solutions for customers deploying the latest HP digital printing technology through HP Financial Services, the company's leasing and life cycle asset management services division. Information is available via an HP Financial Services representative at HP's Graph Expo booth or at www.hp.com/hpfinancialservices.
More information about HP's solutions at Graph Expo is available at www.hp.com/go/graphexpo2011, at www.hp.com/go/gsb or through the HP Graphic Arts Twitter feed, www.twitter.com/hpgraphicarts. New videos from HP at Graph Expo also will be available at www.youtube.com/hpgraphicarts.