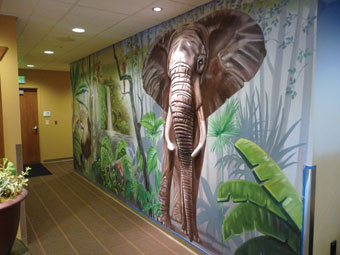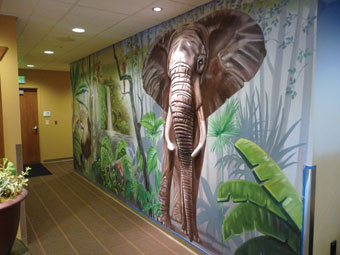 Jan Fletcher
In one children's dental office, the walls really do have ears—elephant-sized ears, that is—courtesy of Walls That Talk, Inc. of Spokane Valley, Washington.
Visitors to Children's Dental Village in Spokane, Washington will discover a nine-foot-tall elephant's head and trunk emerging from a hallway mural in bas-relief. The three-dimensional character beckons to the pint-sized clientele's spirit of fun and adventure.
The elephant bas-relief is just one of around two dozen or so hand-carvings of jungle creatures and three-dimensional foliage—all of which "make walls come to life," says Dave Quinn, owner of Walls That Talk.
Quinn's carvings that are within reach of little ones are fashioned by hand out of high-density polyurethane board, while less expensive foam insulation board is used for those carvings out of reach.
With a degree in industrial engineering from Eastern Washington University ("Something to fall back on if I fell on my butt," he says), Quinn has been involved in creating art all of his life. A sign maker since 1983, he began his career as a billboard sign painter and later moved into interior signage. In fact, he worked on projects as large as a 50,000-square foot interior décor for a grocery store.
Quinn sold his first sign company back in 2001 and then went to work at an illuminated sign firm. However he soon found the regulatory process involved with lighting drove him nuts. "There might be a glitch, and the whole [job] would go away," he says.
Hankering to get back into hand-painted signage, he launched Walls That Talk in September 2005. "I almost named [Walls That Talk] 'Side Job,'" he says, explaining that side jobs for custom work had kept coming in during his career move.

As he envisioned a way to create more demand for hand-painted signage, Quinn wanted to "really make the characters pop out." He needed a durable product that wouldn't dent when hit.
Quinn had already been hand-carving sign lettering from foam insulation board. "Over the years, I've done all sorts of dimensional stuff with unpainted blue board. We had to come up with something that was much more durable than [foam insulation board]," he says. "High-density urethane (HDU) is very tough and very durable. It's so easy to carve, and it's consistent. It's product all the way through—you're not hitting knots."
Another plus for Quinn: HDU is tough enough to withstand the playful impulses of children. "It's just opened up all kinds of possibilities for interior décor," says Quinn, adding that his clients have been thrilled with the results.
At the Children's Dental Village, Quinn created a near life-sized Banyan tree grove, with branches reaching to the ceiling and root systems entwining at the base. The trees populate a children's waiting area. Using a combination of chicken wire and blown-in foam, Quinn carved and shaped realistic trees by applying USG® STRUCTO-LITE® Basecoat Plaster.
After slathering on the plaster, Quinn then carved a bark-like texture into the trees. "I wanted a certain width of bark, so I grabbed a screwdriver tough enough to carve." (Note: That was after he had already raided, in turn, a half-dozen of his wife's electric carving knives.)
Inside the largest tree are insets Quinn created for five Xbox video game consoles, which are situated around the trunk at staggered heights so children of varying ages can play on them simultaneously. He also left air vents amid the tree's roots in order to vent the heat from the Xboxes through a fan installed at the top of the tree.

For the finish work on the animal carvings on the walls and the reception desk, Quinn utilized a Dremel® tool. "The last step is doing a lot of hand-sanding to get it nice and smooth," he says. "With the HDU, you can use all the power tools."
Quinn then chopped the image off—leaving a smooth, flat back—and attached it to the wall, unpainted, with a combination of silicone and screws. Next he sealed the edges with a caulking compound. Quinn then took the background color and airbrushed it around the edge of the bas-relief to soften the transition between mural and bas-relief.
The Children's Dental Village office had plans to open this past July, which led to quite a compressed working schedule since Quinn was only able to begin work on these reliefs and murals in May. "I'm almost done," said Quinn at press time. "I did have most of the mural work finished [when they opened]."
According to Quinn, such labor-intensive custom work requires a thoughtful sales approach. "It involves more money than just buying wallpaper and putting it on the wall," he says. "We have to have the right customer.
"And all the pieces have to fit: The confluence of ideas; you've got to have the right owner, the right person willing to spend some money to do something like this, and the right space needed as far as being able to put something together that's going to work when it's done. When all of it comes together—and lots of projects have—I can see it before it's done. I've always had that ability."
Quinn has also seen firsthand the transformative effect of hand-done mural art in medical settings. When Quinn completed 200 feet of murals (without bas-reliefs) for Spokane Mental Health, his beginning canvas was "institutional white walls." He says. "It's a pretty intimidating environment for troubled families to come into, but as the colors started to go into this place, the counselors [and] the psychotherapists were noticing an immediate impact on the families. The kids were more relaxed. They were thinking, 'Maybe this isn't going to be as bad as we thought.'

"It was really a rewarding project to do. It wasn't just about geting a sign on the side of a building and collecting your check and walking away. This had some good vibes in it."
Quinn is a firm believer that the trade is going back to the folks that can do the hand-painted work, instead of just sticking a large digital print on the wall. "When something's handdone, you really know the difference. You feel the humanity that's in it," he says.
For a video of Quinn in action at the Children's Dental Village, view our YouTube channel link at www.signshop.com.