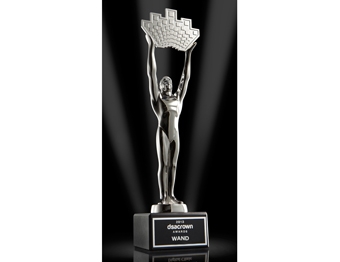 WAND Corporation, an award-winning developer of digital menu content and restaurant technology solutions, gained recognition recently for excellence in digital content deployed in international markets.
The Digital Screenmedia Association (DSA) awarded WAND's multi-language content the coveted silver crown for point of sale digital content under $10,000. Also acknowledged by the DSA was WAND's ability to fit the environments of different cultures, to engage targeted customers, and to satisfy the client's strategic objectives.
WAND's entry showcased custom-made content that was deployed in locations like Singapore and Ukraine for Texas/Church's Chicken. "WAND consistently delivers brilliant creative strategies," said Mike Mader, Senior Vice President of Global Strategy at Texas/Church's Chicken. "Their turn-key digital solution allows for a seamless implementation process to domestic and international markets." Each market often requires a different language in addition to promotional items, marketing messages, and video.
"This is a really exciting award to receive," said Dave Perrill, president of WAND Corporation. "Winning this award proves our investment in top notch creative talent is paying off for our customers."
Custom-made content is just one component of WAND's integrated Total Restaurant Management solution. Powered by the cloud, this platform increases overall customer satisfaction and average check size. In addition, restaurant owners can use a single interface to take control of, and gain insights from, POS, Digital Menus, and Back Office Solutions. This detailed, multi-pronged approach is what crushed the competition at the DSA.
About WAND Corporation
Wand Corporation is the global technology leader for the restaurant industry, partnered with the most well-known and world-class brands in the business. Delivering in our mission to be the greatest restaurant management and technology partner in the world, Wand delivers Digital Menu Board, Point of Sale, Back Office, and Business Intelligence solutions through the next generation, cloud-based Total Restaurant Management (TRM) platform.
To learn more, call 800/RUN-WAND or visit www.wandcorp.com.