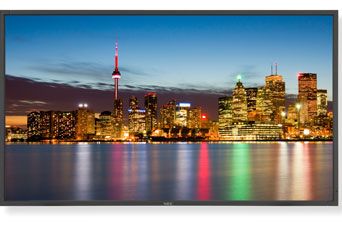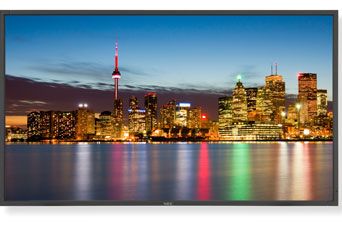 NEC Display Solutions
of America announces the enhancement of its most durable large-screen product line, the P Series, with the addition of two new models: the P402 (
pictured
) and P462.
The new models are direct replacements for the P401 and P461, and they are one-inch thinner in depth. Both the 40-inch P402 and 46-inch P462 are intended for 24/7 operation and include additional thermal protection and internal temperature sensors with self-diagnostics and fan-based technology to prevent overheating.
Ideal in applications such as quick-service restaurants, airports, and retail stores, the displays include an Open Pluggable Specification (OPS) compliant expansion slot, which is the industry's first standardized option slot that aims to simplify digital signage installations. Also included are the DisplayPort output and integrated DVI loop-through capability, which eliminates the need for a daisy chain module.
Other features of the new models are full 1080p high-definition resolution, a contrast ratio of up to 3500:1, and a carbon footprint meter that tracks and calculates the conservation of green gas emissions.
"Our professional-grade P Series is ideal for the most demanding digital signage projects that require integrated technologies to ensure uninterrupted reliability," said Rachel Karnani, product manager for Large-Screen Displays at NEC Display Solutions. "The P402 and P462 displays are going to provide more flexibility for customers. These second-generation displays not only expand connectivity options, but also improve the mechanical design with new displays that are one-inch thinner than the first generation products. This allows our customers to install less obtrusive displays in areas where they may not have previously fit."
The displays will be available in July 2011 and will ship with a three-year parts and labor warranty, including the backlight.