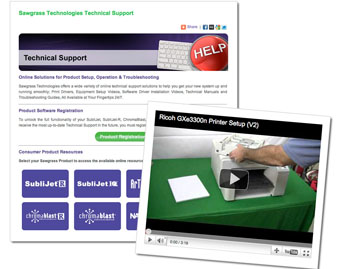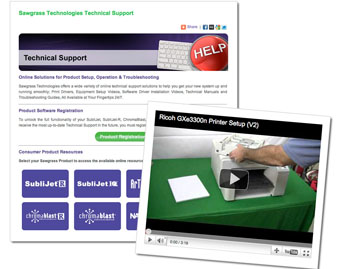 Sawgrass Technologies Consumer Division, a world leader in the development of profitable solutions for digitally printing consumer products, announces a new, easy-to-use technical support section of its Web site for U.S. and Canada markets.
As part of an ongoing commitment to make it easy for sublimation printers to be successful with its products, Sawgrass Technologies has developed a new technical support section for its Web site. Available 24/7, the new section is easy to navigate and features an extensive library of online resources designed to help customers get their sublimation printing systems up to speed quickly and operating smoothly.
Organized by ink type, printer platform, operating system, and ink delivery system, the new section is easy to navigate, enabling users to quickly find all of the supporting content they need. Designed specially for first-time users, the step-by-step installation procedures include videos where applicable.
According to Sawgrass Consumer Division's Technical Support Manager Carla Hart, "Most technical support issues can be resolved with the easy-to-follow instructions, screen shots, and pictures found on the new section of our Web site."
The new content also includes easy access to Sawgrass' popular Education and Events Content designed to shorten the learning curve on everything from learning graphics software like CorelDRAW to money-making business management and marketing techniques.
For more information, visit www.sawgrassink.com.