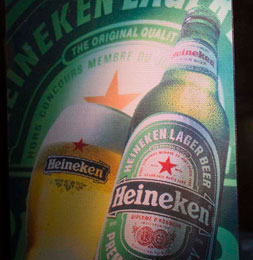 Ashley Bray
This month, SBI introduces the first installment in a two-part series dedicated to signage options specifically for bars and restaurants.
Signage is one of the most important marketing tools in a restaurant or bar, and today's options are eye-catching, three-dimensional, and digital. Plus they not only help to drive in customers—they keep them coming back. Take advantage of this potentially lucrative side of the business by offering local eateries a twist on their typical signage.
Trumping the Traditional
Most bars and restaurants have printed posters or chalk boards listing food and drink specials, but these can be tedious to update and can go unnoticed by a public that has become desensitized to the deluge of signs. Why not reinvent the traditional and offer bars and restaurants in your area the option of attracting more customers?
One way to do it is with window graphics. "Perforated window graphics are eye-catching, open up previously unusable media space, and have the potential to attract customers and boost sales," says Judy Bellah, Public Relations Manager of Clear Focus Imaging, Inc., a manufacturer of perforated, pressure-sensitive vinyl films for see-through window graphics.
Clear Focus offers a variety of window films for printing, which can be used to promote anything from events to specials to regular liquor and food offerings. Plus, sign shops can further a sale by handling the design and printing of the graphics, and even the install. "Prior to production, bar owners should check their state and local regulations governing the display of graphics on bar windows and doors to ensure the display will be in compliance," cautions Bellah.
When determining a place for the graphics, be sure it is extremely visible and that light falls on the perforated side to illuminate the prints. Visit Clear Focus' Web site for install tips.
The Promotional Pick Up
Sometimes businesses are looking to do more than rethink traditional signage. The next step may lie in promotional signage products, which are an out-of-the-box way to get your client's name out there.
Shops can produce the products in-house, or they can partner with a promotional products or advertising specialty company. All Ways Advertising headquartered in Bloomfield, New Jersey, offers a variety of products that can be personalized with an establishment's logo. Common items found in restaurants and bars suddenly become signage: 3D bar mats, condiment holders, napkins, coasters, and even patio umbrellas can all be customized. "With us, it's all about the design," says Ron Selling, Creative Director. "With a certain amount of understanding the client's needs and understanding who their marketplace is, you create a product that everybody wants."
It's also a product that everyone notices. "There's so much competition out there so you want to do whatever you can to attract the consumer's interest when they're in that bar," says Nathan Koenigstein, Account Executive at All Ways Advertising.
And once your clients see customer traffic increase, they should come back to you for even more signage options.
Check back at the end of the month for the second half of this article, which will focus on digital signage options for bars and restaurants.
Photo courtesy of Clear Focus Imaging, Inc.