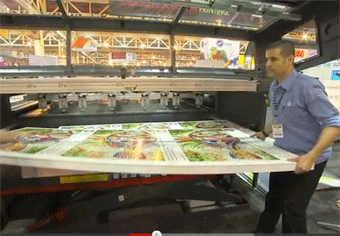 Point-of-purchase solutions provider KDM P.O.P Solutions Group is one of the first U.S. customers to upgrade its HP Scitex FB7500 Industrial Press to include features from the new HP Scitex FB7600 Industrial Press model.
The field upgrade for one of its two HP Scitex FB7500 Industrial Presses has helped the Cincinnati-based company move more analog screen print jobs to digital production for faster turnaround times. The company also can transition very long runs toward multiple, customized short- and medium-quantity jobs that allow clients to capitalize on targeted marketing opportunities.
Increased Application Versatility and Quality
Upgrade features and advantages of the new HP Scitex FB7600 Industrial Press include:
* Saturation controls that boost quality by laying down more ink with no throughput reduction.
* New, UV-curable HP FB225 Scitex Inks that make the press compatible with a wider range of media, such as polystyrene, polycarbonate and polyethylene substrates, expanding the types of jobs KDM can print digitally.
"Any other time you try to print digitally with polystyrenes, you see chipping and other problems," said Dan Kimmerly, graphics director, KDM. "The HP Scitex FB7600 Industrial Press and its new inks eliminate this problem and offer the best ink adhesion.
"We love the saturation control feature on the press as well. It lets us adjust the saturation in 20 percent increments and is very useful for cases when a customer wants us to give a little extra 'pop' to an image."
With the press, KDM has increased its digital production, which helps the company improve margins and reduce costs by avoiding the 5 to 10 percent overrun quantity common for screen-printed jobs.
Productivity, Media Choices Create Opportunities
Delivering high productivity on a range of flexible and rigid media, the HP Scitex FB7600 Industrial Press can print up to ninety-five full boards an hour and has a new point-of-purchase print mode that produces fifty-five full boards an hour with indoor quality. The press also has new hot folder and job queue features that help print service providers (PSPs) expedite their workflows.
New HP FB225 Scitex Inks offer better adherence on plastics and improved flexibility, giving PSPs the ability to cut through the ink with reduced chipping and cracking to streamline finishing and enable new applications. The press's ink saturation feature, a first for HP Scitex presses and printers, allows operators to improve print quality by laying down more ink. Users can fine tune the amount of ink used in a single pass, so images do not lose their sharpness or clarity.
In addition to its HP Scitex FB7600 and FB7500 Industrial Presses, KDM also operates an HP Scitex TJ-series Industrial Press, as well as a small format HP Indigo digital color production press.
More information about HP graphics solutions is available at www.hp.com/go/gsb, on YouTube at www.youtube.com/hpgraphicarts, and through the HP Graphic Arts Twitter Feed at www.twitter.com/hpgraphicarts.