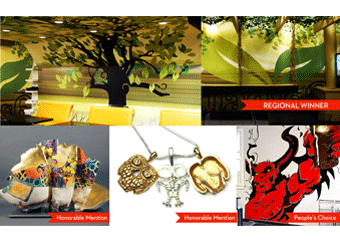 Roland DGA is pleased to announce its top Regional Award winners of the ROLAND CREATIVE AWARDS international design contest, as well as Honorable Mention and January People's Choice Award recipients for the North American region. All winning entries receive prizes and recognition, with the overall winners in each region going on to Japan to compete for the worldwide grand prize, the Roland machine of their choice.
"The Roland Creative Awards contest pays tribute to our founder's vision of using digital technology to transform imagination into reality," said Dave Goward, president and CEO of U.S.-based Roland DGA Corp. "We are greatly honored that hundreds of creative professionals from around the world shared their work with us, resulting in more than 1,100 entries. I look forward to congratulating the worldwide grand prize winner during our 30th Anniversary Celebration this April."
Of the participants internationally, 15 Regional Award winners have been named, representing the best entries from more than 120 countries. Each will receive an all-expenses-paid-trip to Japan in April to celebrate Roland's 30th anniversary and compete for the grand prize: his or her choice of a VersaCAMM VS Metallic Inkjet Printer/Cutter, EGX-360 Engraver, JWX-30 Jewelry Modeler or MDX-40A Milling Machine.
In addition to these top winners, Honorable Mention and People's Choice awards have been given in each region. A gallery of all winning entries worldwide can be viewed online at www.rolandcreativeawards.com/winners, including these top North American winners:
Regional Award Winner – Judged by a panel of experts
Gamut Media, Brea, CA – "Saladish"
Honorable Mention Award Winners – Judged by a panel of experts
AC Golden Design, Los Angeles, CA – "Bonsey Pendant"
Bennett Bean Studio, Blairstown, NJ – "Ceramic Sculpture"
Monthly People's Choice Award Winner – Voted by website visitors
Loudmouth Printhouse, Ottawa, Ontario – "Devil Inside"
"With such a large group of innovative and talented competitors, it is a great honor to have been chosen as the regional winner for North America," said Phillip Yu, graphics director for Gamut Media. "Winning this competition encourages us to be more creative and to continue to produce quality, imaginative projects for our clients."
"The support and recognition we have received for our work with Saladish have been amazing," added John Kim, Gamut Media's sales director. "We look forward to competing for the contest grand prize in April."
Celebrating parent company Roland DG's 30th anniversary worldwide, the ROLAND CREATIVE AWARDS was launched in September 2011 to bring together the Roland community and showcase the best that Roland businesses have to offer. Open through January 29, the contest invited users of Roland equipment from across the globe to submit their best work as produced on the company's wide format inkjet printers, vinyl cutters, engravers, 3D milling machines and other production tools. Entries spanned industries and applications, and included everything from signage, banners and vehicle wraps to personalized accessories, jewelry designs and decorated apparel.
Final judging for the ROLAND CREATIVE AWARDS will take place during the company's 30th anniversary celebration, to be held in April at Roland DG worldwide headquarters in Hamamatsu, Japan.
For more information on Roland products, call 800/542-2307 or www.rolanddga.com.