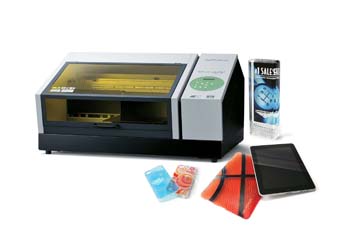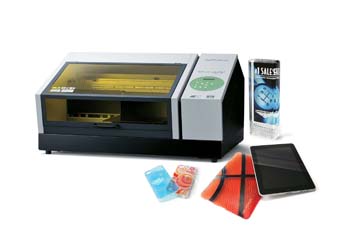 Roland DGA Corp. has announced a new addition to its inkjet printer line, the VersaUV LEF-12 benchtop flatbed UV printer. The LEF-12 combines award-winning print technology, an advanced LED curing system and exclusive ink-saving features to bring outstanding print quality and ease of use to providers of custom promotional products, giftware, and awards, as well as the packaging and prototyping markets for UV printed items.
"The LEF-12 enters the market as the most affordable, yet versatile printer in its class," said Andrew Oransky, director of marketing and product management for Roland. "The LEF-12 goes beyond just CMYK and adds white and clear inks for printing directly on a wide range of items from thumb drives and pens to cell covers, laptops, wood, acrylics, glass and even metals. Clear ink enhances graphics with both gloss and matte finishes, and unique textures for premium results."
The LEF offers a 12-inch-by-11-inch printable area and supports a wide range of materials up to 3.94 inches thick and 11 pounds. A built-in laser pointer allows for easy setup, and advanced print head technology ensures photo quality output up to 1440-by-720 dpi.
Exclusive Roland ECO-UV ink provides exceptional color gamut and bright, saturated white images and text. Graphics can be finished with ECO-UV clear ink that produces patterns and textures and simulates varnishing in gloss and matte finishes. Clear ink can even be built up to create raised artwork and logos. Roland VersaWorks® RIP software is included, featuring seventy-two ready-to-apply patterns from the Roland Texture Library.
With the LEF-12, users get all the benefits of long-lasting solid state UV LED curing technology for an energy-efficient, ozone-free work environment. The LEF-12 LED lamp turns on and off instantly, without requiring warm up time, and generates minimal heat for added safety.
The LEF-12 is the industry's only benchtop UV printer that incorporates mist filters to catch residual ink that may mist when printing off the edge or curvature of a product. This feature cuts down on overspray and preserves the long-term performance of printheads.
To ensure the ultimate in reliability, the LEF-12 is backed by the Roland OnSupport system, which allows remote monitoring of production activities. When a job is completed or ink runs low, an email notification is sent to any designated smart phone or computer. An automated ink circulation system prevents pigments in the white ink from settling, thereby minimizing ink waste and the associated costs. A fully enclosed system, the LEF-12 stays clean of dust and debris.
Priced at $29,995, the LEF-12 is available immediately through authorized Roland dealers. The LEF-12 is part of a complete VersaUV family of UV LED print devices including the 64-inch LEJ-640 hybrid flatbed and roll-to-roll printer and LEC series roll-to-roll printer/cutters in 54- and 30-inch widths.
For more information on the VersaUV LEF-12, visit www.rolanddga.com.