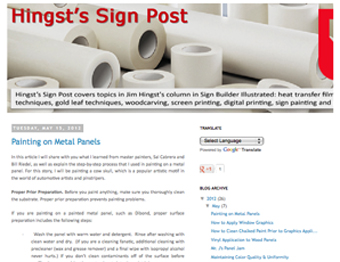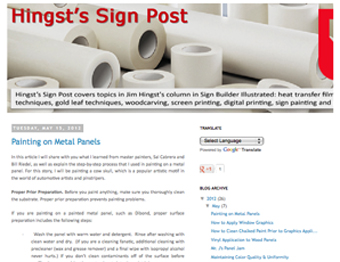 Hingst's Sign Post, updated by Sign Builder Illustrated Contributing Writer Jim Hingst, supplies sign makers, printers, and craftsmen with practical, money-making, and problem-solving tips. Articles cover a wide range of industry topics including vinyl application techniques, screen printing, sign painting, gold leaf techniques, and wood carving.
Stories featured in the blog answer actual technical service issues encountered in the field.
In providing advice and solutions to problems, Hingst, draws upon his thirty-five years of experience in product development, estimating, production planning, vinyl graphics application, sales, and marketing.
RTape Business Development Manager, Jim Hingst, has contributed more than 150 articles to many of the leading publications in the sign industry and is the author of the book Vinyl Sign Techniques. He is also a member of the Society of Gilders and the SGIA Safety Committee.