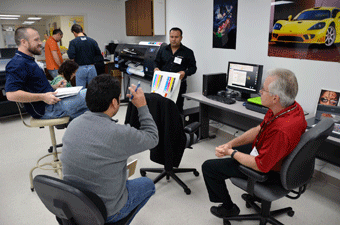 Back by popular demand, SGIA's Color Management Boot Camp Workshop returns to Fairfax, Virginia, on March 27-29, 2012. Whether you are struggling with color control, trying to improve your company's color output and productivity, or just hoping to produce better color, this is an opportunity that can't be missed.
According to a 2011 Color Management Boot Camp attendee, learning about the various software packages and appropriate tools to enhance skills and do their job better were the highlights of the Workshop.
A mix of lecture and hands-on exercises, this in-depth training session will concentrate on the unique aspects of large format inkjet, and how to make color management work for you, including:
• Color theory and principles
• Goals of color management
• Device calibration
• Time-tested color management procedures
• The newest print standards and how you can use them to improve customer satisfaction
• Using popular RIP software, including: Wasatch, Onyx, and Caldera
Lead by industry experts, Tony Quinn, of Nazdar Consulting Services, and Jeff Burton, of SGIA, this three-day event is a must for those who want better control of their color using wide-format printing. Representatives from Caldera, Mutoh, X-Rite, and Onyx also will be on site to offer knowledge and real world examples, and answer any of your questions.
For more details and to register for SGIA's Color Management Boot Camp, visit SGIA.org, Keyword: Workshop.