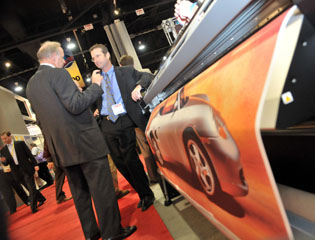 SGIA
welcomes Epson America, Inc. as the third gold sponsor to sign on for the 2011 SGIA Expo (New Orleans, October 19–21). The SGIA Expo draws thousands of imagers from around the world to explore the broadest range of new technologies and innovations.
"The SGIA Expo has been an excellent venue for Epson when it comes to unveiling and demonstrating our newest printing technologies and solutions for the specialty graphics industry," said Reed Hecht, product manager, Epson America, Inc. "Epson is pleased to be one of the leading sponsors at the 2011 Expo and we look forward to it being yet another exciting and successful event."
Epson is a leading innovator and manufacturer of digital imaging technologies and printing solutions for consumers and professionals across a broad range of industries. Epson America, Inc. is based in Long Beach, California, which is the regional headquarters for the US, Canada and Latin America.
Epson joins additional 2011 SGIA Expo gold sponsors INX Digital International Co. and Roland DGA Corporation. Platinum sponsors include AGFA Graphics; Durst Image Technology US LLC; EFI; FUJIFILM North America Corporation, Graphics System Division – Sericol Unit; and Hewlett Packard Company.
Following the success of the 2010 Expo, SGIA is already gearing up for 2011. Early booth-sale-reservation appointments and an increasing number of industry partnerships prove that the SGIA Expo is the premier event for the specialty imaging community.