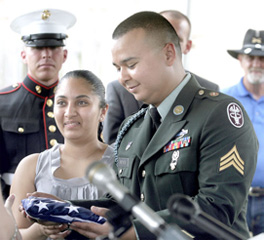 Alexander Reyes' boyhood dream of a military career ended when he was hit by an improvised explosive device during a patrol two years ago in Baghdad. "Laying in that hospital bed…sometimes I felt I'd rather [have] died," Reyes said. "My life came to a complete halt."
Dan Wallrath of Houston, Texas, is helping veterans start a new life after they return from a war. Since 2005, Texas home builder Dan Wallrath has given injured Iraq and Afghanistan veterans homes of their own—mortgage free. He and his Operation Finally Home team have built nine new custom homes and currently have ten more planned or under construction. He's created a program called "Operation Finally Home" to help injured veterans who have served in the Iraq or Afghanistan war to have a home free of cost, reports CNN.
Now, the international Sign Biz Network—an organization of more than 180 brick-and-mortar sign companies—is contributing to the effort. The chain is no stranger to causes, having supported the Miles of Hope missing children's organization for years.
Reyes sustained severe blast injuries that led to his medical discharge; he's on 100 percent medical disability. Like many soldiers wounded in Iraq and Afghanistan, Reyes, now 24, found the transition to civilian life difficult.
Wallrath recently presented Reyes and his wife with an unexpected gift: a home built especially for them, mortgage-free. Wallrath told CNN "It really broke my heart to think (about) these young men and women. It was like someone hit me upside the head with a 2-by-4. I just felt like this is what God wants me to do."
"Our entrepreneurs and their graphic designers and other team members have joined together in this cause, and we are grateful for Don Smith, our business owner in McKinney, Texas, and owner of Imagination SIGNworks, for pointing us in this direction. This hits home, for all of us," said Teresa M. Young, President and CEO of Sign Biz, Inc.
"As part of the Sign Biz Network for the past two decades, I experience firsthand the power of this chain to improve the world around us," said Young. "We will answer this call, for some 38,000 returning war veterans who are injured and need our help. We can support each event, across the country, that raises awareness of this worthy effort."
Businesses and donors interested in contributing to Support Our Troops/Operation FINALLY HOME can visit http://www.babasupport.org.