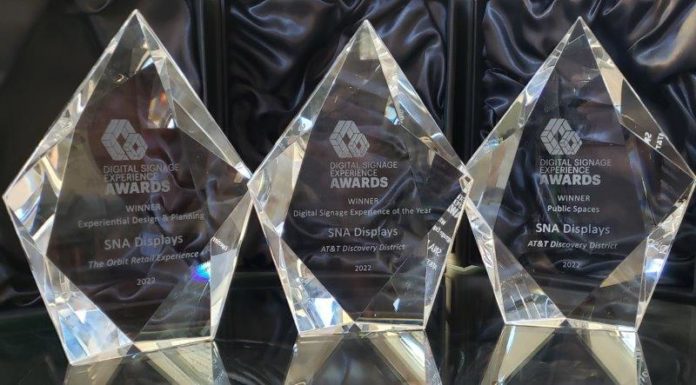 SNA Displays and Moment Factory took home the top "DIZZIE" award for Best Digital Signage Experience for work at the acclaimed AT&T Discovery District in Dallas. The project also won in its category, Public Spaces.
SNA Displays also received a DIZZIE award for The Orbit Retail Experience in the category of Experiential Design & Planning.
The announcement was made last Friday at the newly revamped Digital Signage Experience (DSE) show's awards reception and ceremony.
The DIZZIEs recognize companies from across the globe whose digital signage installations and campaigns challenge the status quo and drive innovation.
"Our industry is continuously evolving and we were in awe with the latest and greatest digital and interactive displays that were submitted to our awards program," said David Drain, DSE's director of event programs. "We are thrilled to honor the incredible work of these companies. We congratulate the winners on their achievements and thank our esteemed panel of judges."