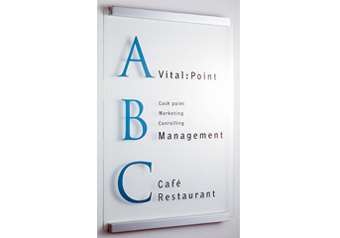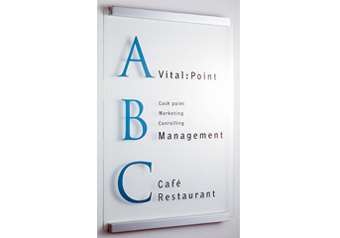 Lori Shridhare
To incorporate the best of all worlds into a sign company's architectural signage offerings, it makes sense to offer both American-designed systems, as well as imported designs. This is exactly the approach of one company, id SignSystems, Inc., which has found elegant and efficient architectural signage systems from Europe that are now making a splash in the U.S.
Founded in 2005 by Paul Dudley, a native of Britain with over 20 years experience in the architectural sign industry, Rochester, New York-based id SignSystems focuses on design, wayfinding services, custom and modular interior, and exterior architectural sign systems. The company offers full manufacturing capabilities and installation throughout North America. Sign systems are sourced from several European countries such as Norway, Germany, United Kingdom, and the Czech Republic. "Our sign systems have been very carefully selected to work harmoniously as a group to provide wayfinding solutions to a wide variety of environmental graphic applications," says Paul Dudley, president of id SignSystems. "Our company was founded on a strong design philosophy—over 50 percent of our team is trained as designers."
Selling to both wholesale and retail markets, the company's core product offerings revolve around twelve modular sign systems, as well as a freestanding display system called "hoffdisplay." "id SignSystems is constantly looking across the world markets for design trends and new directions to ensure it keeps its finger on the pulse of current sign designs," says Dudley.
There are a few key principles the company bases its systems on. "Our interior systems are all characterized by the following fundamentals: good design, stylish appearance, efficient use of materials, and the capability to easily change messages," he says. "Our modular sign systems are available to the sign industry in component form or as complete 'in-a-box' packages."
From the beginning, Dudley's intention was to create a company that would bring the best of European sign system design to the U.S. environmental graphics market; the company quickly realized that there was a considerable niche for these designs. "Customers appreciate the more understated aesthetic of European-designed sign systems," says Dudley. "However, we also quickly realized that in order to provide the appropriate customer support to the U.S. market, our company needed to stock and finish our products domestically."
To make this company model work in the U.S., id SignSystems invested heavily in a full fabrication facility in its Rochester, New York manufacturing base where product profiles and components are stocked, then converted to the specific needs of U.S. customers. "Issues such as common modular sizes, ability to custom paint to PMS colors, and ADA Braille production in both raster and photopolymer were introduced," says Dudley. "This gives our systems the ability to seamlessly comply with U.S. architectural specifications, yet maintain the stylish appearance offered by European sign designs."
A sampling of id SignSystems' recent and ongoing projects reflect the versatility of these European sign systems when initiating or augmenting a wayfinding program. For Kaleida Health in Buffalo, New York, the company has been working as technical consultants on a core sign program. An initial step for this client was to take a design concept and value-engineer it for the hospital, which spreads over 2.5m sq. ft. within six buildings of varying age and architectural styles. Id SignSystems rationalized sign types and made cost-saving proposals. The next step was to work on a complete renumbering process. "This is an ongoing process and we are currently working on a sign refurbishment program, through a department by department basis," says Dudley.
Another client, Unity Health of Rochester, New York, came to id SignSystems to establish an interior and exterior sign system initiative. As part of this ongoing five-year relationship, the company has developed their first solar-powered exterior sign system for the hospital's new perimeter road expansion. Overall, they've completed over 50 small and large projects for Unity Health. "By using the core basis of their original design, the hospital maintains consistency in their wayfinding schema and brand management program," says Dudley. "Relationships with clients such as Unity Health required our company to perform fast in order to meet many short lead times and keep the service bar at the highest level, and to ensure the wayfinding scheme in its entirety is complete and consistent."
Finally, for the new campus of the University of Southern Florida, id SignSystems designed and implemented a complete new interior modular sign system and exterior wayfinding scheme by using a curved monolith exterior sign system. "Initially, we worked closely with the site architects and now work with the university facilities team to manage and update their signage program," says Dudley. "Both projects are constantly updated over their short life development. It is a key requirement for architectural sign systems to be quickly and cost effectively updateable to meet the customer's changing needs."
Like many companies in this field, id SignSystems does most of its work at the onset of the project, making sure the project managers understand the client's needs. "One of the most important items in developing an architectural sign system for any environment is the initial information gathering phase," says Dudley. "Before anything is designed, we spend a lot of time with our customer, holding focus group meetings, discussing wayfinding challenges, studying the effectiveness of the facility's numbering system, and developing a comprehensive wayfinding strategy. From this research, a successful design and implementation program can be developed."
Once a job moves into production, the company assigns experienced project managers to ensure the program is rolled out successfully, on time, and within budget. "When rolling out an architectural sign program, it is important to provide ongoing support, reliability, and consistency in the products being used," says Dudley.
Dudley stresses that it's crucial to not only supply clients with the initial order, but to make sure the sign program can be maintained and serviced as efficiently as possible. "Too often a cleverly designed custom sign program that works well in concept cannot be easily maintained by the client or the sign company because small repeat orders are not reliably serviced," he says. "This mean the system can break down and the customer loses confidence in its supplier and the sign system as a whole. We are firmly of the belief that major roll-out architectural sign programs should come from a source that is reliable and can guarantee consistency of product and supply channels."
Photos courtesy of id SignSystems, Inc.