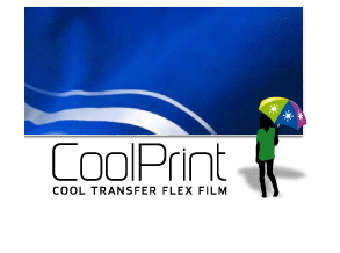 Some articles, such as umbrellas, backpacks, and raincoats, are difficult if not impossible to heat press. Now you have two cool options from RTape Corp.—CoolFlex and CoolPrint. The new series of pressure sensitive polyurethane films are easily applied with a squeegee, using the same techniques that you use to apply vinyl.
Unlike adhesives coated on vinyl films, the adhesives on CoolFlex and CoolPrint are an extrordinary advancement in the pressure sensitive field. Every twenty-four hours, the adhesion value of these films doubles in peel strength, until ultimate adhesion is reached. Depending on the type and texture of the article, full adhesion is attained in two to seven days. Once the bond builds to its maximum level, the appliqué is is generally impossible to remove without destroying the substrate.
Plotter cutting graphics using CoolFlex or CoolPrint is as easy to cut as any heat transfer film or sign vinyl. After weeding the matrix from the image, you can use a standard application tape, such as RTape's 4075 or 4075RLA, to transfer the graphic to the substrate. For digitally imaged appliqués, CoolPrint is printable using eco-solvent printers.
For more information about CoolFlex and CoolPrint, call 908/753-5570 or 800/440-1250.