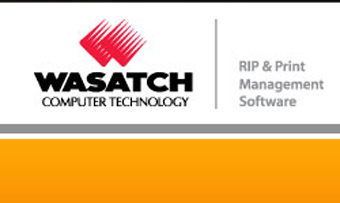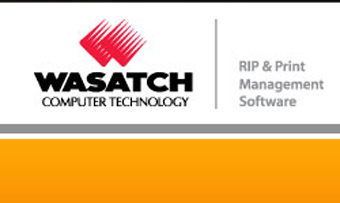 Wasatch Computer Technology, an industry-leading developer of RIP & Print Management software, has joined forces with Global Imaging to provide their wide and grand format print industry clients with an integrated, turnkey solution to their digital imaging needs.
Global Imaging works with a variety of industries, including advertising agencies, service bureaus, screen printers, sign shops, and beverage suppliers. They sell complete commercial digital print systems and offer a comprehensive array of supplies and services. Because Wasatch SoftRIP is sophisticated RIP software made easy, it was a perfect addition to Global Imaging's product line. With simple setup, intuitive workflow, and powerful print controls, SoftRIP saves users time and money while producing excellent quality color.
"Our installs with Wasatch have been with HP Designjet L25500 printers in multiple Alphagraphics sites throughout the country and with Agfa Anapurna printers that we've placed in several independent shops," says Josh Marten, West Coast Territory Manager. "Wasatch SoftRIP is extremely easy to use and is designed to cater to all markets—from entry level to the more experienced. And, Wasatch provides stellar support."
As a Value Added Reseller, Global Imaging is a reliable source of intelligence for their clients in the wide and grand format print industry. Global provides solutions to clients who range in size from 400+ locations to the individual sign shop. No matter how large or complex the production environment, SoftRIP has the tools users need for complete control. With its 16-bit color rendering pipeline, exclusive Precision Stochastic Screens halftone method, direct-to-layout workflow, powerful color management tools, and ability to drive up to four printers simultaneously, SoftRIP makes any workflow really flow.
"In determining our product lines, we utilize a standard that combines technical mastery of the product and a service commitment from the manufacturer," says Tara Lamb, President. "A primary purpose of sticking to our standards is to assure we have a minimum of problems on the service end of the products we sell, and a high satisfaction level from our clients."
About Global Imaging
Global Imaging is a national value added integrator of wide and grand format printing systems and supplies. Since 1995, Global Imaging has paired a superior product portfolio with technical expertise and attention to business strategy to make digital print shops profitable. To learn more, call 800/787-9801 or visit www.globalimaginginc.com.
About Wasatch Computer Technology
Wasatch Computer Technology, LLC, headquartered in Salt Lake City, is a leading developer of RIP and print management solutions for wide-format digital printing, screen separations, photographic, giclée, and other specialized processes in the digital printing markets. For more information, visit www.wasatch.com.