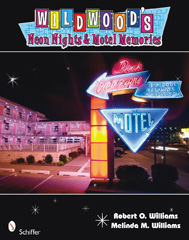 Ask anyone what their "dream gift" would be, and odds are that they will tell you a day plucked from the memories of their past. How much would you spend for the opportunity to relive a day from your childhood, especially one spent at the Jersey shore on summer vacation?
And the next best thing? A beautiful, image-filled book that takes you there, to all the places you have come to know and love in Wildwood, New Jersey. Take a walk with Robert O. Williams, best known as a Philadelphia Inquirer staff photographer for twenty-two years and Pulitzer Prize nominee, as he leads you through the halcyon days of Wildwood. This gloriously illustrated book takes you on Wildwood's wild ride from a seaside playground in the sixties and seventies through the tumultuous 90's and 2000's, finally resting at its reincarnation with present day Wildwood (and some of the Doo-Wop motels being placed on the National Trust for Historic Preservation's "Most Endangered" list).
A book as much about neon signage, as the motels the alluring megawatts drew in, this trip down into our collective past promises to take you back to your youth, if only for 220 color photos worth of it. The story behind Wildwood's roller coaster of kitsch, class, and memories is told by Melinda Williams, also formerly of The Inquirer. Listen in as the pioneers of the sign industry, building trade and advertising world share how they created their niche in Wildwood and helped to buoy it up to international prominence in the tourism, architecture and roadside Americana realms.
Wildwood's Neon Nights & Motel Memories is photographed by Robert O. Williams, author and photographer of the critically acclaimed photographic retrospect on stainless steel diners called Hometown Diners. Wildwood's Neon Nights and Motel Memories is written by Melinda M. Williams, Managing Partner of The Williams Group (www.TheWilliamsGroup.info), based in Exton, Pennsylvania.
Wildwood's Neon Nights & Motel Memories is published by Schiffer Books, Atglen, Pennsylvania.
Visit the book's Web site at www.WildwoodsNeonNights.com for a preview of the book and to purchase it.