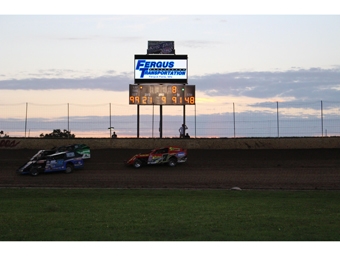 Daktronics (NASDAQ-DAKT), an American company located in Brookings, South Dakota, installed a new video display for I-94 Speedway in Fergus Falls, Minnesota, allowing the track to bring in additional sponsorship revenue. Being one state away allowed for a quick-turn installation to get everything up and running at I-94 Speedway in fast order.
"I believe the new display has had an immediate impact at our race track," said Brent Eggen with I-94 Speedway. "We have been able to highlight past shows and run commercials for future shows to keep fans informed on what's happening. We were also able to attract new sponsors and have multiple sponsors shown in a single, highly visible location.
"We have received very positive responses from our sponsors who like the flexibility of changing their messaging from week to week."
The video display installed at I-94 Speedway features 20 millimeter line spacing and measures approximately 8 feet high-by-15 feet wide. It provides a large digital canvas for advertisers and sponsors to show their messages to a captive audience of race fans.
"We've had a lot of interest from fans and drivers in a new lap counter with either a top three or top five position scoreboard," added Eggen. "When you have twenty-four cars running twenty-plus laps, it's tough to keep track of who's in what position."
The track also installed a horizontal layout, five-position scoreboard with a lap counter and timer beneath the video display. It measures 6 feet high-by-20 feet wide with a 24-inch digit size so the information can be seen from across the track.
"The fact that Daktronics was just right down the road from us a few hours away played a huge role in our decision," said Eggen. "Our display and scoreboard where ordered in the fall and installed in the fall, ready for the 2014 race season with no issues at all."
"Daktronics looks forward to supporting our friends at I-94 Speedway for many years to come," said Eric Cain, Daktronics regional sales representative. "I-94 Speedway is leading the charge for oval tracks throughout the country in finding innovative ways to engage and entertain their fans, fill seats and attract sponsors. We are very excited for the opportunity to provide the technology that allows them to do just that."