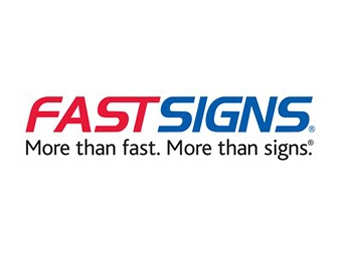 FASTSIGNS International, Inc., franchisor of FASTSIGNS®, a leading sign, graphics, and visual communications franchise, has announced that CEO Catherine Monson will speak at the International Franchise Expo from June 15-17 at The Javits Center in New York City. Additionally entrepreneurs are invited to meet Monson and the brand's franchise development team at booth #214 to learn more about franchise opportunities throughout the Northeast, including in the New York City metro area and Long Island. The brand also is seeking international partners worldwide to be master franchisees.
Under Monson's leadership, FASTSIGNS has achieved World Class Franchise certification for the past seven years—the highest honor bestowed by the Franchise Research Institute—and, in 2015, was one of the inaugural inductees to Franchise Business Review's Hall of Fame for being named to its "Top Franchises" list for ten consecutive years for its high rate of franchisee satisfaction.
During the conference, Monson will share insights gained during her more than thirty years in franchising, including FASTSIGNS' expansion into nine countries, and strategies and best practices that helped make FASTSIGNS an international success story.
Thursday, June 15 – 10 a.m. – 1 p.m.: "Global Franchise Expansion: Strategies for Lucrative and Planned Growth"
Thursday, June 15 – 2 – 3 p.m.: "Why Franchising? How Women Can Be Successful in Today's Franchising Marketplace"
Saturday, June 17: 12:30 – 1:30 p.m.: "The Franchisor-Franchisee Relationship: Striking the Perfect Balance" (with FASTSIGNS franchisee Denise Acquaye, of Newark, New Jersey)
"I have spent my entire career in the franchising industry and am thrilled to share my knowledge and expertise with franchisors, franchisees, and potential franchisees at the International Franchise Expo," said Monson. "FASTSIGNS is a vibrant, growing 32-year-old brand; we are looking for qualified entrepreneurs interested in helping us expand globally. I'm looking forward to meeting with potential franchisees in New York City."
On the heels of an extremely successful 2016, fueled in part by the ongoing worldwide need for visual communications and digital signage technology, the company expects to open a projected forty-five-plus locations in 2017.
During the International Franchise Expo, FASTSIGNS will showcase digital signage that will serve as an alternative to traditional video walls made up of multiple flat panel displays. The new LED is brighter, seamless, and easy to install.
Additionally, author Dean Lindsay will sign complimentary copies of his book, "How to Achieve Big PHAT Goals," at FASTSIGNS' booth from 11 a.m. – 1 p.m. and 2 – 4 p.m. on Friday, June 16, and on Saturday, June 17, from 10 a.m. – 12 p.m. and 1 – 2:30 p.m. (Limited quantities available.)
FASTSIGNS International, Inc. closed out 2016 with record-breaking growth and was recently ranked #1 in the Business Services/Signs category and #95 overall in Entrepreneur magazine's Franchise 500®, the world's first, best, and most comprehensive franchise ranking. Acknowledged by entrepreneurs and franchisors as a top competitive tool of measurement, the Franchise 500® recognizes FASTSIGNS for its exceptional performance in areas including financial strength and stability, growth rate, and brand power.
In addition to more than 400 U.S. and Canadian markets targeted for development, FASTSIGNS is seeking international partners worldwide to be master franchisees.
For information about the FASTSIGNS franchise opportunity, contact Mark Jameson ([email protected] or 214-346-5679) or download an eBook that explores the FASTSIGNS franchise opportunity at http://amzn.to/1FrnDJu.