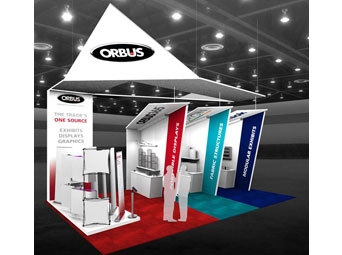 Orbus Exhibit & Display Group™, one of North America's leading trade suppliers of display, exhibit, and event solutions is excited to announce that the company will debut many of its new display products and new product lines on its 20 feet-by-30 feet exhibit booth at EXHIBITORLive!, taking place March 2-4 in Las Vegas, NV.
The annual EXHIBITOR show at the Mandalay Bay Convention Center brings industry leaders face-to-face with clients, partners and prospects to share new ideas, innovations, products and more.
Orbus' 20 feet-by-30 feet island exhibit prominently features many of the new product lines recently introduced in the 2015 Exhibitors' Handbook, including Xclaim™ collapsible fabric popup displays, Phoenix and Phoenix Mini economy retractable banner stands, Vector Frame™ Edge fabric poster frames and Hybrid Pro™ Modular exhibits. Along with the new products, Orbus' best-selling retractable banner stands, Hopup™ and Coyote™ popups and Formulate™ demo products will also be on display.
The stunning fabric-based and custom exhibit exemplifies the company's construction, manufacturing and printing capabilities by incorporating custom-built wooden structures, Vector Frame™ backlit wings and soaring pillowcase fabric and aluminum tube canopies and hanging structures.
In addition to viewing and learning about new products, booth visitors will also benefit from the ability to speak with a sales representative about Orbus' extensive manufacturing and printing capabilities available, including in-house aluminum extrusion cutting and welding, woodworking, and G7 Master IDEAlliance certified printing process for superior graphics.