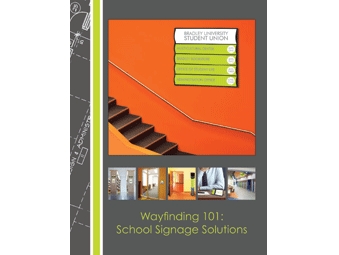 SignPro Systems®, the modular wayfinding signage division of Orbus Exhibit & Display Group®, is proud to announce the release of three new industry-specific printed and digital resources, highlighting wayfinding sign solutions ideal for hospitals, churches and schools. These brochures are available for free on SignPro's Web site.
SignPro's industry-specific brochures are designed to assist sign providers and professionals in describing the multitude of wayfinding sign solutions available to customers and prospective customers.
"SignPro is proud to provide our dealer partners with valuable resources, such as these brochures, to share with their customers" said Julien Aiglon, Division Manager of SignPro Systems. "Visualizing wayfinding sign solutions in a building or business can be difficult without a place to start, which is why we created these three brochures to assist with inspiration in the most common industries utilizing architectural and wayfinding signage."
The non-branded brochures include:
Wayfinding 101: School Signage Solutions: This brochure highlights the variety of signage solutions available for schools, including directories, classroom identifiers, and poster displays.
Wayfinding Signage for Hospitals & Healthcare Centers: To inspire wayfinding signage use in hospitals and healthcare centers, this brochure identifies different uses for suspended signage, wall signs, desk frames and more within care centers.
Wayfinding Signage Solutions for Churches & Worship Centers: This brochure helps to answer the question of "How does wayfinding fit into a church environment?" Evaluating use throughout places of worship as directories, message boards, restroom identifiers and more, this brochure highlights possibilities for professionals and potential customers.
"SignPro is proud to consistently aid our dealer partners in expanding their knowledge base and in the education of their customers," said Aiglon. "We continue to develop resources and tools to help educate customers across all industries."