Two decades ago, Susan Bogen and her husband found themselves at a career crossroads, their twenty-year-old New York City-based sweater manufacturing business having finally shifted away overseas thanks to NAFTA regulations and no idea what they were going to do next. Flash forward to today. The couple owns and operates a very successful Signarama franchise in Deerfield Beach, Florida, taking on and solving signage needs of all kind.
However they have really made a mark in the field of ADA signage, and their story can prove to be a handy guide for some sign makers on what to expect and how to succeed when taking on more of this type of work in-house.
In 2002, the Bogens knew, when searching for a new career, that it would need to feature a strong combination of art, marketing, and technology. After research, they believed the Signarama opportunity perfectly reflected this. "I had a background in sales and marketing, and my husband had a strong background in running a small business," says Susan, "so we decided to meld our experiences together and look for a business we could both play unique roles in and get a certain amount of job satisfaction doing what we do best."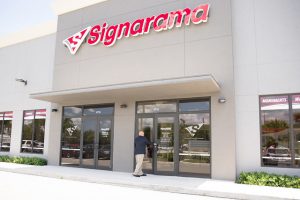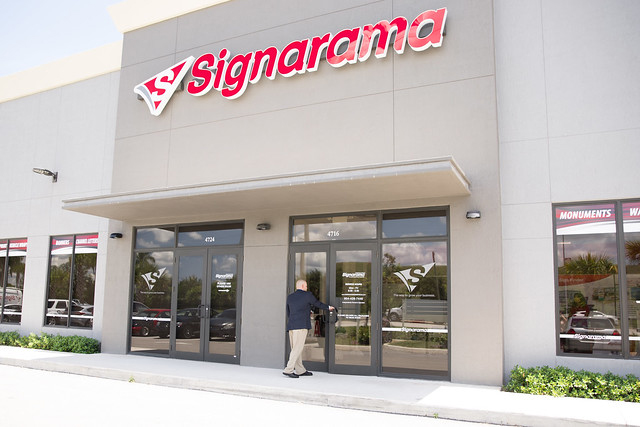 Signarama of Deerfield Beach started out in a 1,200-square-foot space and is currently housed in a 7,000-square-foot space. The shop is full-service, working on signs of all type (which can be attributed to their seventeen employees coming from varied backgrounds and skills and the varied industries that represent their clientele). "Our company philosophy is that, rather than focus on a particular niche, we're very customer-centric," says Susan. "We focus on the customer and then dive deep into a variety of needs that they have. As a result, we end up having the opportunity to manufacture all sorts of signage."
They do a lot of work with small and large manufacturers and retailers, however some of their largest clients come out of the property development area, which has also played a role in their ADA sign offerings.
Bogen's Signarama started offering ADA-compliant signage sporadically about seven years ago. She found that while they were receiving requests to provide ADA signage, at the time, her shop really didn't have the fabrication capabilities to do so. They knew not to turn this work down (never try to say "no" to a customer), instead opting to outsource to ADA wholesalers that were part of the Signarama vendor network. "But as our relationships with a local property manager began to deepen, we found ourselves in a situation where we could offer more of ADA product," she says.
Technologies and techniques changed enough over the past several years that Susan and her Signarama of Deerfield Beach found ADA work more manageable for them, so they started aggressively marketing their services that it was within their capabilities. This aggressive marketing also meant that it was time to bring things in-house to help production turnaround times and increasing profits.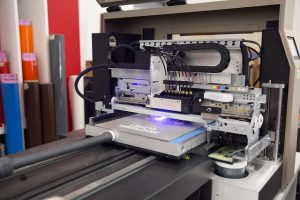 Their godsend has been a direct color printer system, a device that prints directly to the substrate. They purchased this machine two years ago. "We use a laser engraver to cut the materials for the ADA signage, while the direct color printer handles the Braille and raised lettering," explains Susan.
If interested in bringing in a direct color printer, Susan says, since there is some painting involved, you may need a paint booth. You will need to survey available space for the table to conduct assembly. "But every shop arranges that in their own kind of way," she says.
The machine has the ability to print full color. Because of this, Susan's shop has been able to achieve colorful designs that liven up the signage beyond the ADA-compliant requirements. Although the main purpose of ADA signage is to help people with sight disabilities, you can still get creative with it. "It's really an endless, limitless scenario as long as you're complying in regards to contrast [a minimum 70 percent contrast ratio]-30), the size of the text, and the positioning of the signs in the building," she says.
This brings up another reasons why Susan is very attracted to ADA signage: Each job is custom. "It's very rare that we make the same ADA sign twice," she says. "We can customize them with branded logos or personalize them."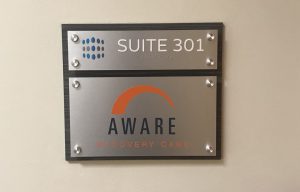 The vast majority of ADA work they do is with acrylic, but they'll also use Rowmark materials or Wilson Art metals. "We also sometimes use Dibond® as the sub-panel and then add acrylic as a second layer. There's also green glass and frosted glass. The important thing is that it has to be non-glare."
The material used depends on the customer's budget, and fortunately, there are ways of achieve a similar look with different materials. This can come down to longer lifespans or longer manufacturing processes. "A Type I office building will have a certain type of sign versus a standard office space that may not want to spend the top of the line," she explains.
Susan mentions that they also sometimes use decorative hardware to help decorate ADA-compliant signs. "We'll use spanner screws or stand-offs to attach one layer of sign to the other," she says.
It's important to remember that there's a learning curve involved with ADA signage. It's a time-consuming process, and there are things Susan is still learning. She cites the Signarama family—and the ability to share information or ask questions with 800 or 900 different business owners—as being a big help. "There is a huge resource and reservoir of incredible experience out there that we can tap into anytime we have a challenge or a question or trying to be creative and problem-solving," she says, noting that the corporate office encourages this kind of reaching-out environment. "I'm hoping to learn more so that our company can continue to grow in its knowledge base and expertise and get better and better at it over time."
It's important that Susan's Signarama of Deerfield Beach has to be knowledgeable with ADA, because she mentions that many of their customers don't really know anything about ADA and, honestly, don't want to know. "They just want to know that you have the capability as a sign company to create a compliant sign and install it properly in their building," she says. "They are, for the most part, relying on your expertise."
Their questions mainly relate to what happens to them if the signs aren't ADA-compliant. Will they go to jail? What are the penalties? How are the rules enforced? "We like for our company to share our expertise as far as what we understand the rules to be and then the end-user can decide if, when, and how they want to follow those rules," says Susan, adding that enforcement officials will send a notice to correct anything they find out of compliance and that fines usually come into place when there's a refusal to correct.
Susan notes that architects also send in drawings and blueprints to them that her shop recognizes aren't ADA-compliant. "We have to straighten that out for them and move the task forward," she says.
This isn't to say there aren't challenges within the shop either. Susan cites clients that request tenant name changes or damage repairs. "They tend to move in and out of a building and no longer have a relationship with or do not know who originally manufactured the sign," she says. "Clients can get frustrated because each one of these signs is often unique, and it's often very difficult to match them precisely and you don't have the specifications of what was originally made."
However make no mistake—Susan's Signarama of Deerfield Beach enjoys the challenges. "In the beginning, it took us longer to make certain signs, but because we're constantly learning and producing, we get better and things move more quickly," she says, noting that orders can average up to 250 or 300 for a location, and on top of this, there might be a client who needs them for forty different locations.
They typically use high-bond double-stick tape for installations. The important factor for ADA-compliant signage is that they have to be installed uniformly. They must be mounted on the latch side of the door and they must be forty-eight inches minimum and sixty inches maximum measured from the finished floor the bottom line of text.
Susan and her Signarama crew use an installation ruler template tool to aid them. "The width of it is exactly the width that represents the sign is supposed to be from the doorframe," explains Susan. "It stands on a pole and when you sit it on the ground and lean it against the door frame, there's a marking that shows you precisely where the sign needs to be placed. It has a level so you can see immediately that you're positioning it in a level way.
"This eliminates the need to mark and measure each and every spot. It makes the installation go more quickly."
Equipped with their well-earned knowledge and their investment in the right machines, Signarama of Deerfield Beach has found the perfect touch in being able to offer quality, creative ADA-compliant signage (among many other projects).