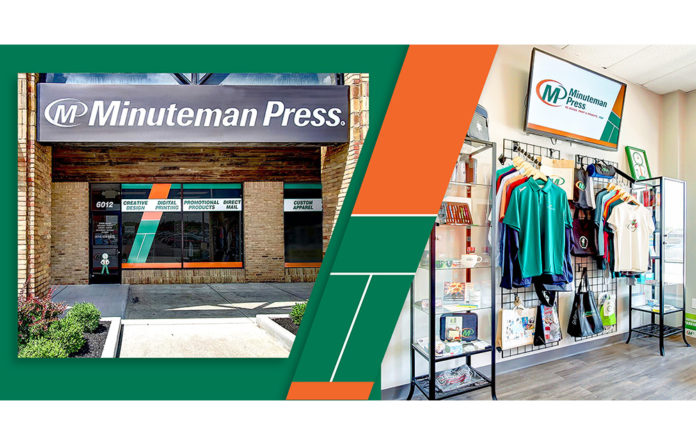 Minuteman Press International, a leading design, marketing, and printing franchise celebrating fifty years in business, has been awarded the 2023 number-one printing and marketing franchise ranking by Entrepreneur Magazine. The Minuteman Press franchise team has now achieved this number-one rating for an impressive thirty-two years and twenty years in a row.
"We are thrilled to receive Entrepreneur's number-one Printing and Marketing Services franchise ranking for twenty consecutive years and thirty-two times overall. Being awarded this number-one rating in our category is a testament to the dedication of our owners and the longstanding commitment and investment we have in helping them succeed," says Nick Titus, President, Minuteman Press International.
In 2022, Minuteman Press franchises continued to serve their communities with innovative design, printing, marketing, mailing, and promotional products and services.
"Minuteman Press owners provide essential, high-demand products and services to support local businesses and organizations in their everyday operations and marketing efforts," says Titus. "We are proud to support our owners with continued innovations to our minuteman.com consumer website, upgrades to our proprietary FLEX business management software, offering marketing and internet marketing programs including our new Deal of the Month campaign, and of course, providing ongoing local support.
"I am very excited for 2023 as we continue to build on the tremendous momentum we achieved last year as more businesses and live events bounced back throughout all of our communities."
In 2023, Minuteman Press International is also celebrating fifty years in business. What started out as one print shop on Long Island in Plainview, New York in 1973 has grown to nearly 1,000 locations across five countries—the USA, Canada, the UK, Australia, and South Africa.
Today Minuteman Press International remains family-owned and operated. "It is an honor to be the third-generation President of the company that my grandfather Roy Titus and my father Bob Titus (who remains our CEO today) started together fifty years ago," says Titus. "While our industry has certainly evolved, the core principles of providing high quality products with outstanding customer service remain the same today.
"We simply love what we do, which is do everything we can to help our franchisees grow as they help their clients grow. Our entire staff, from our team at World Headquarters to the over-twenty-five regional support teams, will continue to work hard and work together to support our owners."
—Press Release