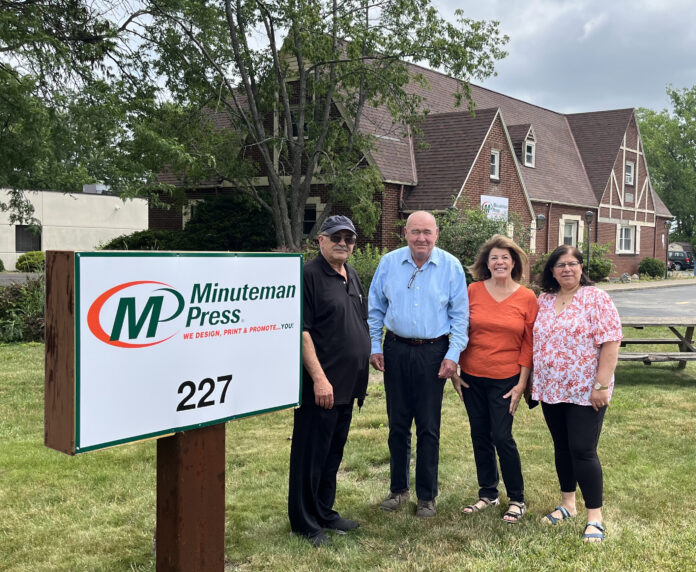 38-year printing business Avon Lake Printing and Signs has been sold by Tom and Jane Brock to new owners Majdolin Jasser and Jasser Jasser along with their son Fawzi Jasser. Following the sale, the business is being converted to a full-service Minuteman Press franchise. The new Minuteman Press in Avon Lake remains located at 227 Miller Road, Avon Lake, OH 44012.
On buying the business, Majdolin Jasser says, "Tom and Jane have served this community for 38 years and have created a business with a high reputation and a great legacy. We are looking forward to building on that legacy as we continue to serve Avon Lake clients and the community as Minuteman Press."
Seller Jane Brock shares, "The transition started on May 30, 2023 and has gone smoothly. We have had a positive relationship with everyone involved in the sale, the process was efficient and a win-win situation for all parties involved. We wish Majdolin, Jasser, and Fawzi all the best."
Tom further explains, "We started speaking with Minuteman Press Regional VP Rich DeRosa about the possible sale of our business in August of 2022. Minuteman Press has a solid reputation and Rich thoroughly explained their process. He brought us a buyer rather quickly and Rich facilitated the selling process and kept us on a schedule of events that helped us to secure our sale in a timely manner."
Tom and Jane express their gratitude to the clients they have served for over 38 years and hope that everyone in the community welcomes the Jasser family with the same support.
Meet the New Owners
Majdolin Jasser spent 30 years in the oil and gas upstream industry as Petroleum Engineer. She also owns and maintains residential rental properties. Her husband Jasser Jasser has owned and operated businesses overseas and is currently managing the family's residential rental properties.
Their son Fawzi Jasser is a recent graduate of the University of Houston with a Bachelor of Science degree in Digital Media. He also worked at the University print shop for two years in graphic design and production.
Majdolin shares, "We decided to buy an established business. First, we did some research and became interested in the B2B market. We looked into wide range of listings for nearly a year before coming across this business listing for a print shop. Through that, we met Rich DeRosa and he introduced us to Minuteman Press."
She continues, "Overall, the process has been very impressive. Minuteman Press works like a well-oiled machine. The training was essential and focused toward people that did not have any prior industry experience.  The tools they provided us will be essential to sustaining and growing this business into the future."
"We do not take owning this business lightly. We are now responsible for our employees and our customers. The gratification comes from both serving our customers as well as the financial reward." -Majdolin Jasser, owner, Minuteman Press, Avon Lake, Ohio (formerly Avon Lake Printing and Signs)
Majdolin reflects on her experience with Minuteman Press, concluding, "We worked closely Rich DeRosa throughout the transaction.  He is extremely knowledgeable and has a very effective and streamlined process. After taking the 2-week training course, it was evident that the Minuteman Press staff is professional and skilled. They believe in the brand and work tirelessly to grow the company."
When asked what advice she would give to others about buying a business, Madjolin says, "Do the appropriate level of research before narrowing down the choices.  Ensure that you are willing to learn and retrain."