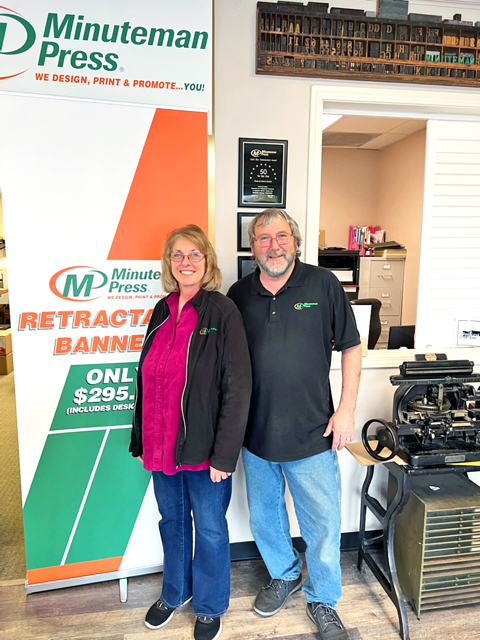 Dawn and Dean Seifert, owners of two Minuteman Press franchises in Youngstown and Warren, Ohio, are celebrating 15 years in business for their Youngstown location, which opened in May 2007. Minuteman Press in Youngstown is located at 3200 Belmont Avenue in Youngstown, Ohio. In January 2020, Dawn and Dean purchased Minuteman Press in Warren located at 2460 Elm Road NE, Unit 500 in Warren, Ohio.
Prior to franchising with Minuteman Press, Dean grew up in a family-owned print shop while Dawn worked in banking. They decided to own a business "to set our own destiny," says Dawn.
When asked about their success and longevity over the past fifteen years, Dean says, "There are four keys to our business:
"Being able to have two of our four children work with us in the family business.
Our customer service—we never tell a client that something can't be done.
We update our equipment when needed to make sure we operate efficiently.
Following the Minuteman Press franchise system and marketing to our clients and community."
Dawn adds the following insights on how they have successfully marketed the business. She says, "There are four primary ways we have grown our business:
"Getting involved in the community and sponsoring various local events.
Visiting our clients on a regular basis.
Providing customers with our branded promotional items.
Utilizing email marketing campaigns."
For Dawn and Dean, their high-demand products from clients include "custom-printed brochures, branded promotional products, and full-scale direct mail marketing campaigns that include graphic design, printing, and mailing."
"People still like to have something to hold onto and printing is the perfect way to put your brand in their hands and make a lasting impression," says Dean.
Today the local business community is looking bright. Dean shares, "We are excited to be part of a community along Liberty's Belmont Avenue Business Corridor, which is the Mahoning Valley's home base for many family-owned businesses. We are local businesses supporting each other and our customers. One of the biggest rewards of owning this business is building real relationships with our clients and having them become part of our family."
As for what advice they would give to other businesses owners right now, Dean says, "Don't try to do everything yourself. Also treat your employees right and share your growth with them."
—Press Release