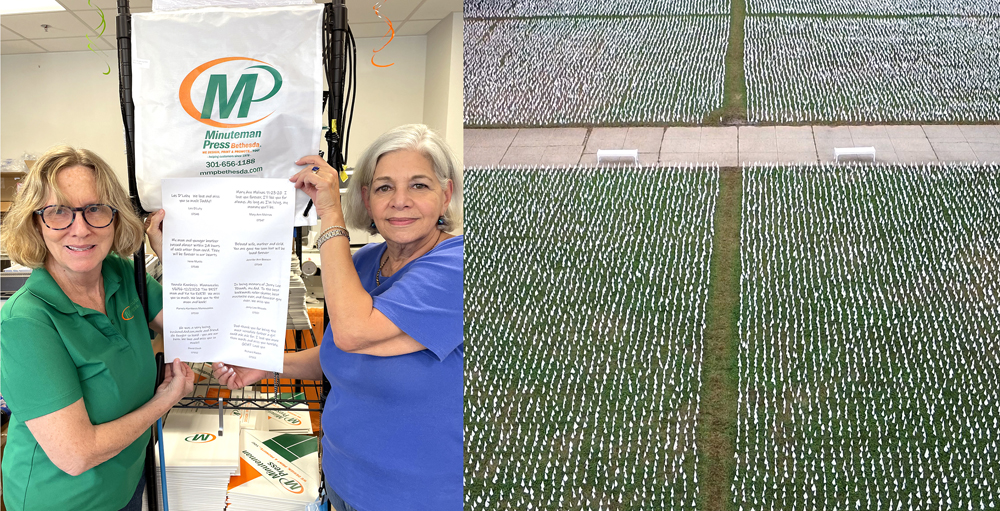 In America: Remember was a public art exhibition held at the National Mall that displays 660,000 white flags to honor the people in America who have been lost due to COVID-19. Minuteman Press in Bethesda, Maryland, was a partner for the exhibition (which ran through October 3), providing printed message cards from people all over the country who are paying tribute to loved ones through the In America website.
"We [were] glad to be able to do our part to help this art exhibition," says Leslie Klein, owner, Minuteman Press, Bethesda. "Every day, we received all of the messages that were submitted through the In America website and printed them 8-up on 11-by-17 sheets to create 4.25-by-5.5 cards. Every night, I dropped off the finished cards to one of the volunteers, and then they were transcribed onto the flags by another group of volunteers."
Leslie adds, "This [was] a total team effort, and we [were] proud to be partners in such an important and moving exhibition. Our hearts go out to those who have been lost and their families."
The In America: Remember exhibition was designed by artist Suzanne Brennan Firstenberg.
—Press Release