Signarama welcomed nearly 400 franchise owners and employees to Las Vegas for its 2023 international convention, SARCON. With a record-breaking turnout and three days of educational, inspiring, and celebratory programming, the "Bet on Red" themed event gave attendees the opportunity to learn from and connect with their brand representatives and peers and gain valuable insights and knowledge to help grow their businesses.
"Convention week is always one of my favorite weeks of the year, and SARCON 2023 lived up to the hype," said A.J. Titus, president of Signarama® and Starpoint Brands. "Signarama's success is a direct result of our hard working, creative, and committed owners and employees, so it's a treat to be able to celebrate our accomplishments together as a group.
"We left Las Vegas feeling energized, excited, and wildly optimistic about the future of our brand, and I can't wait to watch this incredible team succeed over the next year and beyond."
In addition to a lively vendor trade show floor, training seminars, franchise owner panels, and other informational breakout sessions, SARCON served as the platform to unveil Signarama's innovative Studio Model.
The model, which will first be rolled out to existing franchisees, is designed as a compact, streamlined version of a full-service Signarama location, the Studio Model enables existing franchise owners a cost-effective way to expand their market reach and capitalize on new opportunities, while still benefiting from the resources and support provided by a full-service location to support the sales and new opportunities that result from their Studio Model.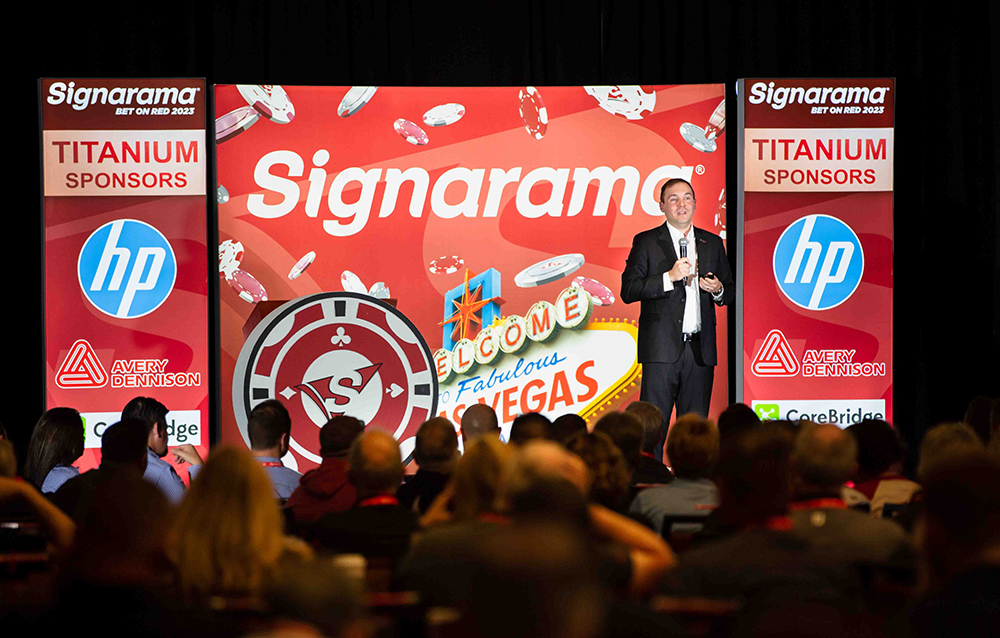 Signarama also introduced the Masters Academy, a new on-location, immersive training series that aims to help Signarama franchise owners amplify efficiency, drive sales, and increase profit. The series consists of five two-day educational programs led by long-standing Signarama owners.
"The Masters Academy gives our owners an opportunity to learn from their peers in an immersive, collaborative atmosphere. We all want to see each other succeed and grow," added Titus.
The three-day agenda ended with the annual awards dinner and gala, where several franchise owners were recognized for their outstanding achievements and projects, including:
2023 Signarama Award Winners
Rookie of the Year – Ray Soemarsono (Corona, CA), Punita and Rajesh Bansal (Lynnwood, WA)
Most Improved – James and Laurie Nevonen (Grapevine, TX), Samuel Costiuc (Cleveland East, OH), and Tina Russell (Somerset, KY)
The Bill Schwalje Humanitarian of the Year – Maggie Harlow (Louisville Downtown, KY) and Bob Chapa (Troy, MI)
Mentor of the Year – Ted DeWitt (Covina, CA), Mike Reese (Ventura, CA), and Dwayne Carruthers (Oshawa, ON, Canada)
Team Player – Beth and Mike Powers (Novi and Flint, MI), Kathy Evert (Ankeny, IA), Roger Robinson (North Dallas, TX), and George and Maricela Vasilache (Richmond Hill, ON, Canada)
President's Award – Kevin McCord (Lawrenceburg, IN and Florence, KY), Jason Brown and Cynthia Miles Brown (Louisville Dixie, KY)
Most Valuable Player – Bob Chapa (Troy, MI)
Hall of Fame Inductees – Dee Burkhardt (Fond du Lac and Appleton, WI) and Olivier and Rouba Fossat (France Master Partner)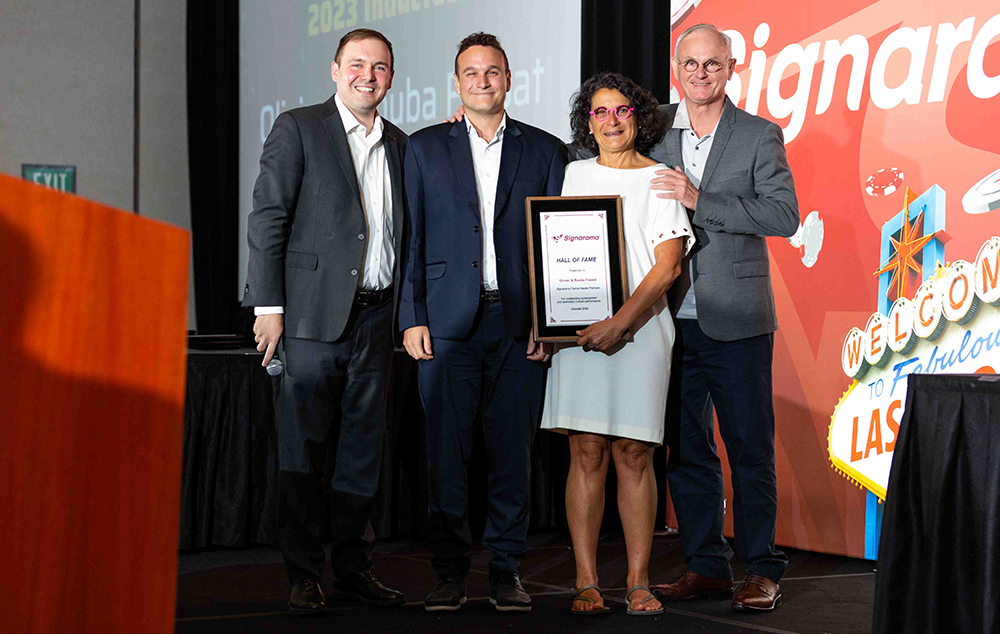 2023 Sign Award Winners
Vinyl (Non-Digital) – Dave and Jamie Smith (Anderson, SC)
Vehicle Graphics – Dan Rodriguez (Denver [S. Monaco Pkwy], CO)
Electronic, Neon & Illuminated – Kevin McCord (Lawrenceburg, IN)
Digital Print Output – Steven and Jessica Vergara (Ormond Beach, FL)
Original In-House Design Concept – Matt Vaughn (Columbia West, SC)
Directional Wayfinding – Maggie and Brian Harlow (Louisville Downtown, KY)
Self-Promotion – Casey Valiant (Evansville, IN)
Router Output – Kelli and Tyler Edon (Greenfield, IN)
Laser Engraver – Lisa & Brian Marder (North Palm Beach, FL)
Branding/Rebranding – Bernard and Heather Kincaid (River Cities [South Point], OH)
Community Involvement – Kathy Evert (Ankeny, IA)
Best In Show – Lloyd and Wendy Graves and Tina Russell (Louisville [East] and Somerset KY)
Signarama is a member of the Starpoint Brands™ family of trusted companies, a division of United Franchise Group™ (UFG), representing the very best in its industry and the mark of quality for customers, providing the ultimate in service, reliability, and value.
—Press Release